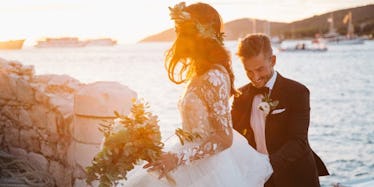 The Most Instagram-Worthy Places For Your Destination Wedding
Destination weddings are becoming more and more popular. They're usually chosen by couples who are looking for something unique, extraordinary and exceptional on their wedding days.
There are many advantages to this type of wedding, but probably one of the most important ones is the fact that your wedding photos are going to look amazing!
So here's a short list of five possible wedding locations that will guarantee you perfect wedding photos that you'll enjoy for decades!
1. Italy
The whole country is like a unique postcard so whichever Italian town you choose, you will not regret one shot.
From the vast and eternal city of Rome to cultural Florence, Venice or fashionable Milan, all these places will give incredible backdrops for your wedding photos.
If you are looking for something a little bit more undiscovered, head to the south of the country and choose Sardinia as your wedding destination. All the small villages, old architecture and unique nature will create an extraordinary set for your perfect wedding.
2. Iceland
OK, if you love nature, magic and being unique, you won't find any better place to get married than in the land where you can major in elf studies.
Iceland is perfectly odd and weird and full of many natural wonders, which will create an oddly beautiful background for your wedding.
Imagine getting married near massive glaciers and waterfalls or surrounded by moon-like hills in the middle of nowhere? Isn't this what describes a fairytale wedding to you?
3. Indonesia
Indonesia is a vast country full of many different islands, and that is exactly why I recommend it. There are hundreds of isles in this country, and each one of them is unique, making your wedding plans easier.
For example, if you want a truly romantic and spiritual experience, head to the island of Bali, which is famous for its thousands of temples and romantic vibe.
There is also a huge island of Java, which can also provide you with unique experiences and photos. In general, decide what you like and what you would love to have in your wedding and choose an Indonesian island – you won't regret it.
4. The USA
You don't need to go that far away to get your perfect wedding pictures. The United States of America can also offer you a wide range of unique locations where you can get one-of-a-kind pictures.
Let's start with Hawaii, with its extraordinary and exceptional nature, volcanoes and pink or black sand beaches. Or head to Yosemite National Park for pictures that are out of this world.
The Grand Canyon is also loved by couples who are looking for something grand during their big day. Most famous Las Vegas hotels can be a great choice for a photo shoot as well.
In the end, metropolises like Los Angeles or New York City can be fantastic sets, too, and you won't even need to go that far away to get that shot of the lifetime!
5. Norway
I'm ending the list with a Northern European pearl – Norway. Here you can find fjords, forests, mountains and everything your heart desires.
From bigger cities like Oslo to smaller villages scattered all over the country, there is no shortage of options for you to explore. In Norway (as in Iceland) you also have an opportunity to catch the amazing natural phenomenon of the Northern Lights.
With those in your wedding pictures, you can be sure you'll capture some incredible photographic memories.