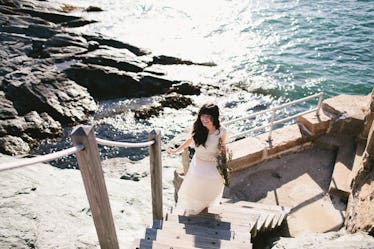 The 6 Best New England Beach Towns To Visit For The Dreamiest Fall Getaway
Summer's almost over, so it's time to start searching for that perfect fall destination to retreat to with your girls as the weather cools down. Fall is your favorite time of the year, after all. It's not too hot or too cold, the leaves begin to change colors, Pumpkin Spiced Lattes are readily available, and you can finally pull out your favorite oversized sweaters. The change of seasons is a cause for celebration, and the best New England beach towns to visit in the fall will give you a perfect combo of foliage and seaside charm.
There's no better place to celebrate fall than New England. As summer comes to an end, the foliage becomes bright and vibrant. The air becomes cooler and more crisp, which means it's the perfect time to go apple picking. If you head to the coast, you'll be able to enjoy a nice sea breeze as you sip some apple cider. You can enjoy the small town life as you admire the charming cottages throughout the area. Nothing says fall like New England, so check out these coastal destinations for an unforgettable fall foliage trip.
Grab your best girl friends, start up a bonfire, and bring your coziest blanket for a night on the beach. Any of these amazing spots will serve as a glorious getaway from your busy life.