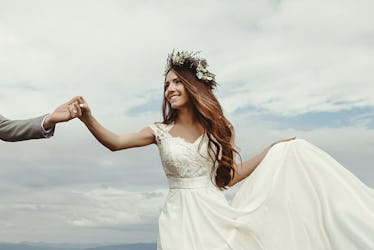 Say Yes To This Wedding Dress, Based On Your Zodiac Sign 
When you're planning a wedding, there are tons of decisions to make: the venue, the flowers, the guest list, the cake, and, of course, the dress. Listen, I am not the most traditionally romantic person in the world and even I know choosing wedding dress is a big deal. Ideally, you'll only ever wear one, and the photos of you in it will definitely last forever. But how do you pick? One way is to choose the perfect wedding dress to wear based on your zodiac sign.
If you think selecting your dress based on your astrological sign sounds kind of ~out there~, I get it — but stay with me. So much of our personal style and preferences are based on our personalities. Since understanding our zodiac signs helps give us greater insight into who we are, it only follows that our astrology would be a super helpful tool in helping to zero-in an ideal wedding dress. See? Not so out there after all.
With that said, here is the wedding dress style that you should say yes to, and that will make you feel like your most glamorous self on your special day, based on your zodiac sign.