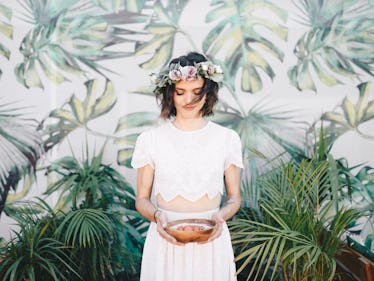 The Wedding Color You Should Definitely Use, Based On Your Zodiac Sign
When you're planning your dream wedding, a great place to start is by picking a theme color. By having that as a starting point, it can help you figure out the vibe of the wedding and begin to narrow down some of the other — literally hundreds — of choices you will make throughout the process. Plus, it's just fun. If you're not sure where to start, then why not consider the wedding color you should use based on your zodiac sign? Each sign is associated with a color that speaks both to your personality and to your ruling planet.
For instance, maybe you're a Scorpio, so a dark, mysterious tone like maroon or burgundy will give your wedding day the right mysteriously sexy vibe. Or maybe you're an earth sign like Virgo, and focusing on an olive tone will give your reception the earthy atmosphere of your dreams. While the color of your wedding theme is ultimately and totally up to you, it's worth considering the various shades that correspond to our zodiac sign. You might be surprised that a color you may not have considered is exactly right for you.
So, keeping all that in mind, here is the color you should use for your wedding theme, based on your zodiac sign.