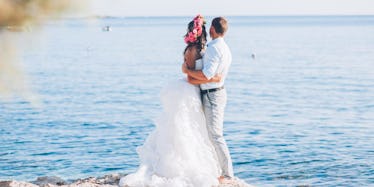 These Breathtaking Beach Weddings Are All The Inspo You Need This Summer
Rex/Shutterstock
When it comes to saying "I do" in the summer, everyone knows the best place to get married is on the beach.
Between the scenic views and soothing sounds of the ocean, it's no wonder so many couples decide to kick off their shoes and exchange vows in the sand.
Since most beaches look relatively similar, it can be hard to make your beach wedding really stand out.
So if you want your nautical nuptials to really make a splash, you have to think outside the sandbox and come up with some awesome ideas that will make your guests remember your seaside occasion for years to come.
From island floral arrangements and seashell decorations to dreamy bohemian beach wear, cozy ceremony seating and dinner receptions in the sand, there are all sorts of things you can do to make your beach wedding unforgettable.
So we rounded up some wedding ideas that will inspire you to embrace your inner mermaid and marry the love of your life alongside the ocean.
Take a look at the pictures below to see some seriously breathtaking beach weddings.
When it comes to getting married...
...there's no better place to say "I do" than on the beach.
You can walk down the aisle in a flowing bohemian dress...
Swap out your heels for some sparkly accessories...
Ditch the veil for some stunning shells...
Add some oceanic accents to your wedding bouquet...
...or give your boutonniere a marine makeover.
Your guests can kick off their shoes...
...and snag a cozy seat in the sand.
You can exchange vows under a dreamy driftwood wedding arch...
...and seal the deal with some rings delivered in an adorable seashell.
Who needs rice when you can toss beach balls up in the air?
You can make a splash with a surfboard dinner menu...
Use some gilded oysters as escort cards...
Set up dinner in the sand...
...or opt for place settings inspired by the sea.
You can't go wrong with a sailboat that doubles as a dessert table...
Tropical tiers of cupcakes...
Some message-in-a-bottle wedding favors...
...or a sparkly farewell that looks like something straight out of a fairytale.
And they lived happily ever after. The end.