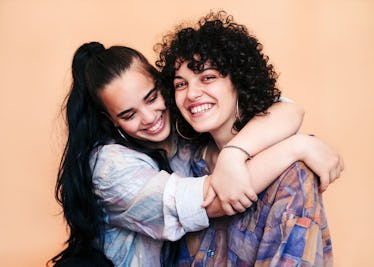 These Are The Most Popular Sex Positions Of 2019, Just So You Know
In my opinion, the best part of sex is figuring out what you really like in bed, whether that's subtle turn-ons, kinks, or your favorite sex position. Maybe you like missionary because seeing your partner enjoy themselves turns you on, or maybe it's doggy because it makes you come every single time. Sometimes a sex position is the whole package and gives you a mix of both physical and emotional intimacy. Whatever the case may be, the most popular sex positions of 2019 and the reasons why they're so popular are super intriguing.
SKYN Condoms' 2019 Sex & Intimacy Survey posed all sorts of down and dirty questions to 2,000 Gen Z adults and millennials, aka, people ages 18 to 38. Some spicy findings include that 25% of people reported they got kinky by using handcuffs in bed, 31% of respondents have had a threesome, and 37% of respondents said they'd made sex tapes of some kind. Half of SKYN respondents reported using their DMs to sext. And last but certainly not least, lube is fairly popular, with 70% of respondents saying they've lubed up from time-to-time. SKYN even took their research deeper and broke down some of its data on sex by zodiac sign. It's a fascinating read, y'all.
So, without further, tantalizing ado, here are the three most popular sex positions of 2019, and why they've earned that coveted title.