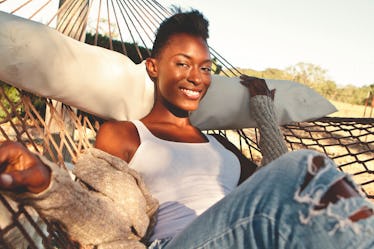 7 Sex Moves To Try In Your Backyard For A Real Hot Girl Summer
Who said the grill had to be the only thing heating up this summer? This season is consistently one of sexy vibes: looser schedules, rooftop flirtations, the promise of summer flings, excuses to show glistening skin, and languid golden hours that make everything feel magical. Now is the perfect time to make use of a blossoming residential landscape and try these sex positions in your backyard (or your boo's backyard, or f*ck it, even the Airbnb you'll be staying at soon on vacation).
Besides, Megan Thee Stallion has declared Summer 2019 to be a hot girl summer: a time for women and femmes to live their sexiest, most carefree lives. Why not take the Stallion's advice literally and take your sex life to the great outdoors?
It's important to note that if you are caught having sex in public — say, by a nosy neighbor who got curious about the moans they heard nearby — you can be charged with public indecency. Also known as public lewdness, it encompasses any "sexual activity or sexual contact that occurs in a public place, where indecent exposure is exposing the genitals or private parts of a person in a place where another person may see and be offended." (You could earn yourselves jail time up to a year, probation, a fine of $500, a criminal record, registration as a sex offender and/or mandatory community service earn yourselves.) So if you're facing the street or live near a public space, be sure to keep it subtle.
Here are seven sneaky ways you can still make the best use of a backyard.