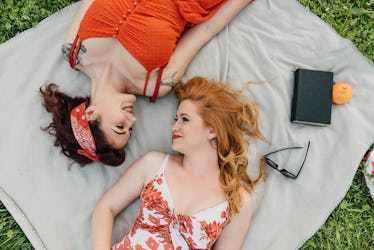 7 Sex Moves To Try At A Picnic If You're Feeling Frisky
As far as summery dates go, a picnic for two is nothing short of delightful. Along with perfectly adorable and very Instagrammable finger foods, you and your boo should look into sex positions to try at a picnic. Ideally, you'll be going out to a secluded, beautiful place in nature for your picnic. Why not make the most of it?
Besides, having sex in public or semi-public can be super exciting. Sex and relationships therapist Cyndi Darnell explained to Elite Daily that while there is no one reason why people do the things they do sexually, "for some people, the appeal of sex in public may be the taboo and being 'naughty." It's the riskiness of it — either getting away with it or possibly being getting caught — that can be a major turn-on.
With the latter, though, it's important to note the risk of arrest. Based on your state (you can look up the deets here), being charged with public indecency can mean jail time for up to a year and probation. Consequences can also include a fine of $500, a criminal record, registration as a sex offender and/or mandatory community service. So please, have a sexy picnic with discretion.
Here are a few moves to try on your next date with nature, if the warm weather has you feeling frisky and risky.