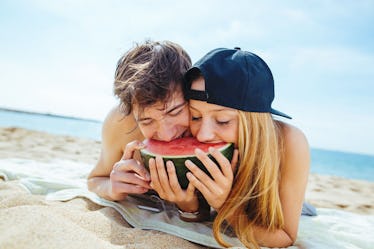 Here's Your Dream Summer Date Idea, Based On Your Zodiac Sign
Summer is almost here, which means… bring on the creative date ideas! I don't know about you, but my mood improves significantly when the weather starts heating up and I can spend more time outside. And this year, I'm planning to take advantage of every moment. The best summer 2019 date idea for your zodiac sign will allow you to embrace the summer sunshine while also letting your personality shine through.
Look, I'm not saying you can only go on fun dates in the summer. There's never a bad season for a romantic night out with bae. But there's just something about summertime that gets my creative juices flowing when it comes to planning dates. It's easy to get stuck in a rut when you're used to the same weekly routine (dinner and a movie or a local happy hour), but you don't have to look far for inspiration to switch things up. Your horoscope can tell you a lot about your personality, which helps determine what kind of date you might enjoy. Use this guide as a resource for planning your next great date together — then once you've tried the perfect date for your zodiac sign, try checking out the one that fits your partner. Get ready for a summer filled with endless adventures and new memories!