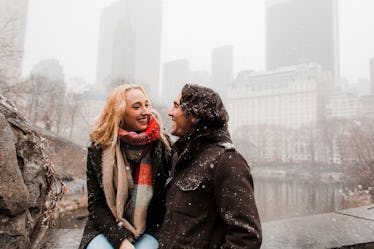 7 Free Winter Dates That Are So Romantic, You'll Shine As Brightly As The Tinsel
Samantha Estrada, Stocksy
A winter romance can seriously be the best thing ever. You've got someone to snuggle up with when it's cold, you've got someone to buy a holiday gift for, and you've got standing Friday night plans — yassss! But the cost of going out with your bae can really add up and leave you in a panic trying to brainstorm free winter dates.
Just because you like saving money on dating doesn't mean you're a "cheap date." It probably just means you're like most millennials with scary student loan debt, barely affordable rent, and maybe an unhealthy addiction to ordering Seamless at the last minute. If you break into a sweat every time you log into your banking app, don't assume that means your dating life is over.
Believe it or not, it's totally possible to create a special occasion with your boo without breaking the bank. Whether you like spending time outdoors, staying in to whip something up in the kitchen, or curling up on the couch, there's plenty you can do with your partner during the chilly time of year. You don't have to spend a fortune — or even a dime — to ignite your romance this season. If you can't afford to be extra with your dates, that's OK. With a little creativity, you can find plenty of inexpensive ways to keep the flames lit all through the winter.
Can't think of anything? No worries! I've outlined seven free winter dates that are unbelievably romantic.
This article was originally published on