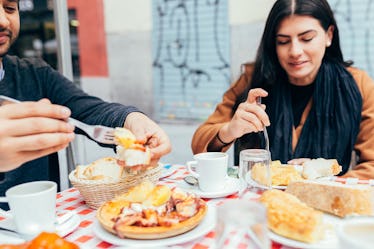 6 Fun Date Ideas For Food Lovers, Because Everyone Deserves Some Cheesy Romance
Food and drinks seem like such an essential part of dating, don't they? After all, you probably go for happy hour drinks after work, or dinner, or dinner and a movie so often that it almost feels like food is engrained into how we date. But what do you do if you love food and you love eating together, but you're tired of the same old routine? You know: making reservations, rushing to get there in time, and depending on where you go, forking down a good chunk of change. It's exhausting, but these date ideas for food lovers might be just what you need to spice things up (pun intended), and you don't have to spend a ton of cash, either.
If you wouldn't really call yourself a professional "foodie," but you freaking love food, then having some stellar date night ideas that involve yummy noms up your sleeve is probably a good idea. Sure, you could keep going out to dinner every night, but that will get fairly expensive — and pretty boring — sooner rather than later, which means it's time to think fresh!
Whether you met someone new and want to get a little creative with that first date, or you and your significant other want some delicious new date night ideas, you've come to the right place. These date ideas for food lovers are exactly what you need to treat yourself and have fun doing it.