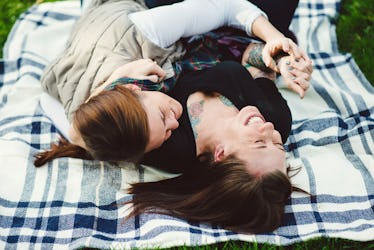 7 Romantic Dates You & Your Bae Can Do Right On Campus Without Spending A Cent
Dating in college can honestly be super fun. If you go to the same school as your partner, there's so much you can do together on campus — even if it doesn't seem like the most romantic spot on the planet. It can be hard to plan nice dates with each other when you're both broke students, though, so here are some creative ideas for free dates for college students.
When it comes to finding free events and romantic spots, the best person to ask about anything that might be happening on campus is your RA. Believe it or not, your RA is not simply out to write alcohol violation slips or to monitor noise. Most RAs are required to inform and encourage students to attend on-campus events. (And hey, a lot of these events also involve free food which is the best.)
Picking a place on campus for a first date can also be exciting because as you get to know a person, it can be comforting for both of you to be in a familiar place. If you're worried about the date feeling boring or more like a friendly hangout, check out the following tips to have a romantic date with your special someone without spending any money.