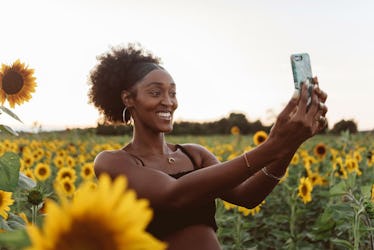 It's A "Hot Girl Summer" & Here's How 10 People Are Celebrating
You loved uncuffing season. Now, get ready for a "hot girl summer!" The season born from 24-year-old Houston rapper Megan Thee Stallion's catch phrase "real hot girl sh*t:" an umbrella term for anything a woman or femme does that's admirable, bold, and praiseworthy. Now, Megan's debut mixtape, Fever, which dropped in May 2019, serves as a soundtrack to a "hot girl summer." It's similar to uncuffing season in that yes, it can include the thrill of summer flings and the seasonal magic that compels you to answer more "u up?" texts. But it's bigger than that. A hot girl summer is a summer in which women and femmes prioritize themselves in a way that's admirable, bold, and praiseworthy — mainly by giving a middle finger to the patriarchy.
That can look like having lots of casual sex, or having no sex at all, or trying something kinky with a long-term romantic partner. That can look like taking a mental health day to journal, go to therapy, and find your happy place. That can look like LGBTQIA+ Pride. It can also look like body positivity when unrealistic beauty standards are trying to keep you from posting the Instagram thirst trap of the summer. And so much more!
Here are 10 women and femmes on what a hot girl summer means to them, and how they're turning that Megan Thee Stallion's empowerment into action.