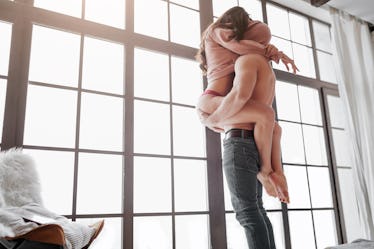 5 Sex Moves To Try Standing Up, So Get Your Vertical Freak On
Standing sex positions sound like a great idea and look super hot in movies, but if you've actually tried them IRL, then chances are you've learned they are a lot tricker than they might seem if you don't know which sex moves to try standing up are actually, ahem, achievable. It turns out that taking your adult fun time positions vertically doesn't have to be all that difficult — and, when done right, wow are they hot. It also doesn't hurt that a few of these are perfect for a clandestine hookup when you and your boo are so turned on you can't wait to find a bed.
So, if you're ready to spice it up with some standing-room-only sex, here is how to take things to new heights (pun intended) with positions where either one or both partners are standing — but that aren't so intense that you'll end up with a sex-related injury. Because nothing puts damper on your sexy time like a run to the emergency room where you have to explain how you got said injury. If this all sounds fun (sans the bodily harm), then here are some standing sex positions for you to try tonight.