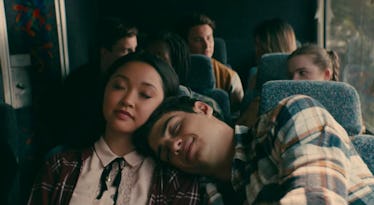 Peter Kavinsky & Lara Jean Covey's Body Language In 'TATBILB' Proves They're Meant To Be
Netflix
Unless you've somehow managed to stay off the internet for the past two weeks, you're probably no stranger to the absolute delight that is Netflix's To All The Boys I've Loved Before. There's a reason we can't stop talking about it — it's just about the sweetest rom-com to hit our TV screens since... probably ever. One of the things that makes it so addicting and delicious to watch is the undoubtable chemistry between actors Noah Centineo and Lana Condor. They did so well that they made their characters Peter Kavinsky and Lara Jean Covey's body language seem so authentic, you'd think they're a real-life couple!
But alas, that is not so. IRL, Condor dates actor Anthony de la Torre, who played a young Jack Sparrow on Pirates Of The Caribbean: Dead Men Tell No Tales. Centineo is reportedly very much on the market, but told E!'s Daily Pop that he probably wouldn't date a fan, saying, "I don't close any doors totally, but probably not, because then it's like more of an infatuation with like, a position more than like, the person. It can overshadow that, which is difficult, I would think." *Cue massive sobs*.
While we probably can't expect to match with Centineo on Tinder, the good news is we can watch TATBILB as many times as we want, and continue to fawn over how sweet of a couple Peter and Lara Jean make. So sweet, that I asked body language expert Blanca Cobb to analyze their body language in the movie and gauge the chemistry between them. Turns out, it was just as obvious to Cobb as it was to you, me, and every other individual who's laid eyes on Peter Kavinsky and Lara Jean Song Covey: These two are tight AF. Here's what Cobb had to say.