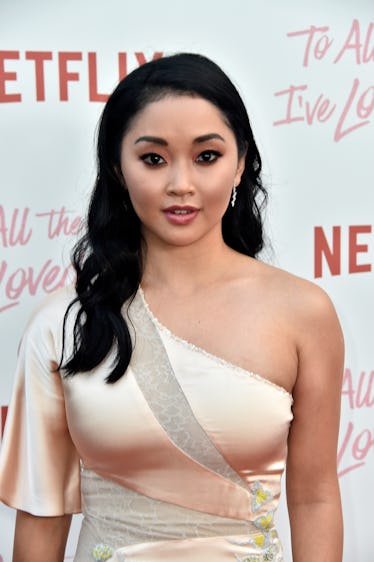 Lana Condor's Boyfriend IRL Is Just As Dreamy As Peter Kavinsky, If You Can Believe It
Frazer Harrison/Getty Images Entertainment/Getty Images
By now, you've certainly watched To All The Boys I've Loved Before. If you haven't, who are you and what are you doing? Sit on that damn couch and watch it, fam. You're also probably very in love with both Lana Condor and Noah Centineo, who play Lara Jean and Peter Kavinsky, too. Despite the pair having some major chemistry, the two aren't actually dating in real life. So, who is Lana Condor dating? Well, the last time I checked, Condor has been with her longtime boyfriend, actor Anthony De La Torre — and guess what? He's not *exactly* Peter Kavinsky, but he's pretty damn close, so I can totally see why she is with him.
In an interview with Cosmopolitan in August, Condor revealed that her three-year relationship with De La Torre has been "wonderful," and he's not at all worried about her on-screen relationship with Centineo. I find this slightly hard to believe, but I'm also jealous and petty, so I guess I'm not the right judge of character for this particular situation.
"I still feel like it's our first date, but also like we are old and we've been together forever and ever," she told the magazine, adding, "Yeah, it's been three years and it's been wonderful."
And, because he's an actor, he totally gets the whole fake-romance side of filming. "He's had a couple different working experiences where he's had to make out with someone and of course I'm like, 'I'll kill her.' But he's very supportive and I'm just happy that he's working."
But even though her boo is totally cool with her work (and vice versa), his family doesn't always feel the same way. She said:
He's really supportive and really chill about it but his family [isn't], like his brother called me the other day because he saw the trailer and he said, 'Hey your trailer looks amazing, I love it so much but I also want to throw up because I don't want to see you with someone besides my brother.'
Totally understandable, TBH. I'm not sure if I'd be so down to witness my sibling's bae making out with someone else. But that's why they get paid the big bucks, right?
But hey, it's apparently been working out pretty well so far. Even though it looks like they don't post to social media too often to gush about their relationship, but when they do, it's cute AF. Back in November 2017, Condor took to Instagram for De La Torre's birthday. She wrote,
Happy golden birthday, golden boy. You make me the happiest always 🤓💕
Cuteness overload, you two!
In an interview with Us Weekly, Condor gushes about how she and De La Torre still write "love letters" to each other, which is basically the most precious thing I've ever heard.
"I do a lot of journaling," the actress told the magazine. "When I have a lot of emotion going on, I'll write. I write letters to my family, my boyfriend, anyone I'm trying to get my point across to. It's easier for me to express myself ... He writes me love letters, actually. He's done that since we started dating and I keep them all. We try to keep the spark alive!"
If you've watched TATBILB, that all sounds kind of similar to the movie plot, no? Minus the fact that she didn't actually want those letters going out in the film. But De La Torre is essentially a real-life Peter Kavinsky.
Sigh.
So look, obviously Anthony De La Torre isn't Noah Centineo, but honestly, it seems like Lana Condor is pretty damn happy with her man, so let's all just let her live, OK?