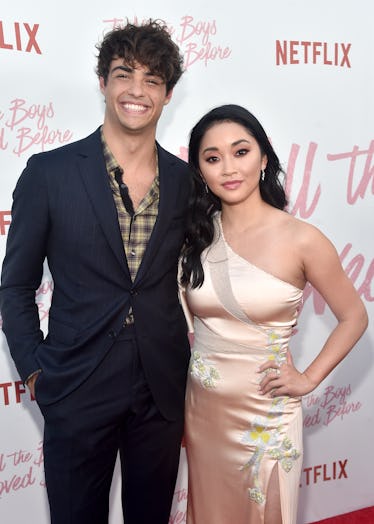 Noah Centineo & Lana Condor's Chemistry Has Fans Thinking They're Dating, But Are They?
Alberto E. Rodriguez/Getty Images Entertainment/Getty Images
If you've yet to be enlightened by the Netflix rom-com To All the Boys I've Loved Before, I'd say now is a pretty perfect time to call out sick from work. It's been a while since I've seen on-screen chemistry the fire actors Lana Condor and Noah Centineo have managed to create with their roles, and honestly, it almost seems as if these two have a little ~something~ going on in real life. So, are Noah Centineo and Lana Condor Dating? The facts are all honestly a bit confusing, but let's try to iron this all out, OK? OK.
So, here's the thing: Lana Condor and Noah Centineo, who play characters Lara Jean and Peter Kavinsky in TATBILB, have openly admitted to having chemistry with each other, and let me tell you, it is a BIG mood. They're not even subtle about it, which makes it all the more amazing (and confusing), too.
Exhibit A: Lana admitted that she has a "huge crush" on Noah.
In an interview with MTV, Lana talked about how she and Noah first met while auditioning for TATBILB and notes that when she looked up from going over her lines, a "gorgeous tall, beautiful man" walk through the door. She said that she had to FORCE herself to continue reading her lines so that she wouldn't get "distracted" by the actor, who we now know was Noah.
But it gets better, because at the end of the interview, she reveals that she's crushin' on him hardcore. "To this day I just think he's the greatest guy ever, so it was not hard being his co-star at all. I have a huge crush on him. I like to think he has a crush on me but whatever."
I mean, can we just stop the research here and say that these two are clearly soulmates?
Exhibit B: Noah called Lana the "love of his life."
The actor took to social media after VidCon to rave about his time spent there, but he was more focused on showing Lana the love more than anything else. He said,
Thank you guys for such an amazing day at VidCon, I had an incredible time. Lana Condor, you are the love of my life — you did, we did ... all of us, the whole team, awesomeness. Netflix, thank you everyone so much for the opportunity.
HOW ARE THEY NOT MARRIED RIGHT THIS VERY MOMENT?
Exhibit C: All of their adorable interactions that have been caught on camera.
As if the first two pieces of evidence don't prove that the romance is palpable between the two actors, then consider all of the moments captured on camera that show the chemistry between Lana and Noah.
For instance, 'memba the part in TATBILB where Lara Jean's lock-screen is her snuggling up with Peter Kavinsky? If you think they staged that moment, you're wrong — It's actually a candid photo of the two actors napping together.
"That was actually one of our crew members who took that photo," director Susan Johnson told Entertainment Tonight. "They actually were sleeping on the couch in that room like that, so we just stood over them and took that picture and it's so friggin' cute. So yeah, we just borrowed it from our crew member."
Seriously? SERIOUSLY?
"There wasn't [a scene]. I could make something up but I actually think it's cute that they hang out like that," Johnson said.
BRB, just gotta go weep into my pillow for a few minutes.
Let's also talk about the time the pair played Truth or Dare with co-star Janel Parrish for Teen Vogue, and Lana asked her celebrity crush out on a date. The celebrity in question? NOAH, OBVIOUSLY.
So, are the two officially an item?
All of the above evidence would have you believe that these two are basically planning a wedding by now, but sadly, no, they're not dating.
The last time we checked, Lana was still dating her boyfriend of three years, actor Anthony De La Torre. According to an interview with Cosmopolitan, she said that her boyfriend is "very supportive" and "super chill" about her on-screen romance with Noah.
And, in an interview with Us Weekly, she admits that the two write "love letters" to each other and are still very much in love.
"He writes me love letters, actually! He's done that since we started dating and I keep them all. We try to keep the spark alive!" she shared.
Well, if for some reason that spark fades, I have a feeling there will be another suitor patiently waiting in the wings for her. Just a hunch!