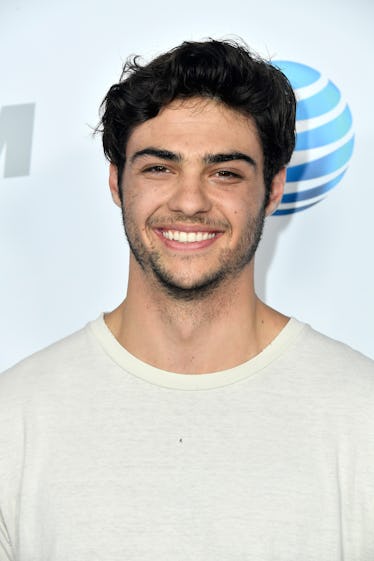 Fans Have A Question About Noah Centineo After Seeing 'To All The Boys I've Loved Before'
Frazer Harrison/Getty Images Entertainment/Getty Images
To All the Boys I've Loved Before is literally taking over social media. The Netflix film was a hit right off the bat and fans are swooning over its main squeeze, Peter Kavinksy, played by Noah Centineo. Centineo, who enjoyed a long stint on Freeform's The Fosters, is stealing people's hearts, and now fans have one pressing question to ask: Is Noah Centineo single? Well, it's looking like he just might be!
The 22-year-old actor keeps a pretty detailed log of his daily life on Instagram. And judging from that, he seems pretty single to me. His Instagram account consists mainly of head shots, selfies, and pics from his time on the set of To All The Boys I've Loved Before. There isn't a single potential love interest in sight... except maybe Lana Condor. Centineo has a handful of pics of himself and his To All The Boys I've Loved Before co-star, and they actually seem pretty cozy.
But other than that, there's no romantic partner in sight. That's not say he isn't keeping his private life to himself, though. According to Just Jared, Centineo was involved with model Angeline Appel. It seems they dated from 2016 and onward, but there hasn't been any official word about whether they're still an item or not.
By the looks of it, though, Centineo is enjoying life as is. He's had tremendous success in his acting career, as is evidenced by The Fosters and To All The Boys I've Loved Before. Now, basically everyone knows his name. And it all kind of happened over night.
To All The Boys I've Loved Before hit Netflix on Aug. 17 and almost immediately, social media was going wild over Centineo's heartfelt performance. Here's how Twitter has been reacting to Centineo's breakthrough role in the film:
So, basically, he's got everyone in a tizzy. He's gaining a whole legion of new fans by the minute since more and more people are watching To All The Boys I've Loved Before.
If you haven't watched the film yet, here's a spoiler-free rundown of how it times out:
High schooler Lara Jean (Condor) is a hopeless romantic. She aches to be in love and has actually fallen for quite a few boys over the years. Afraid to express her love, Lara Jean writes love letters to all the boys she has crushes on, but never sends them. Instead, she keeps the letters to herself until one day, when her private letters make their way into the boys' hands.
The boys in question are, "Peter with the beautiful eyes, Kenny from camp, Lucas from homecoming, John Ambrose from Model U.N., and Josh." Josh Josh (Israel Broussard) is actually Margot's (Lara Jean's sister, played by Janel Parrish) boyfriend. So, basically, he's off limits.
In order to distract Josh from her letter, Lara Jean concocts a plan to fake-date Peter Kavinsky (Centineo), and a lot of drama and comedy ensues.
Centineo's character is super sweet, considerate, and respectful of Lara Jean. So, it's easy to see why he's captured the hearts of so many.