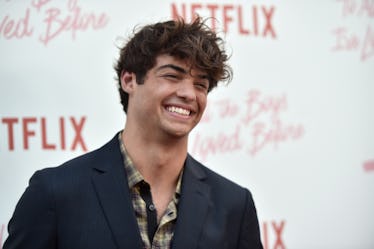 I Dare You Not To Swoon While Watching Noah Centineo Describe His First Kiss
Alberto E. Rodriguez/Getty Images Entertainment/Getty Images
I remember my first kiss. It was my freshman year of high school on the dance floor of a party themed "Tropic Thunder" (classy, I know). Great times. Well, standing in stark contrast to my ~steamy~ and not at all romantic first kiss is Noah Centineo's first kiss. His was adorable, innocent and perfectly sweet.
In a recent interview with BuzzFeed, Centineo gave To All The Boys I Loved Before fans the deets about his first time locking lips. "Her name is Mackenzie, and I said, 'Hey, do you wanna go see a movie with me?' And she was like, 'Yeah, OK! Can I bring a friend?' And I was like, 'Yeah, of course, I'll bring a friend,'" he recalled. "We watched the movie and I remember being so nervous, just to touch her pinky sitting next to her in the movie theater... It was terrifying! I walked her back to her hotel room, and outside of her door, I looked at her and [laughs] I said, 'Goodnight kiss?' And she looked at me and was like, 'Mhm!' So, I gave her a little kiss goodnight. It was the most adorable peck, and she went inside... When that door shut, I just went, 'FAAHHHDJSHKJSA! Then I walked back to my room all giddy and that was my first kiss."
He was afraid to touch her pinky? They shared an innocent kiss outside of her hotel room? He cheered as soon as she closed the door? If you're not swooning, I hereby declare that you are a robot.
Watch the adorable interview for yourself here:
If you're not familiar with Noah Centineo, may I recommend his star turn in To All the Boys I've Loved Before, the new Netflix rom-com adapted from Jenny Han's book of the same name? He's probably blowing up your news feeds. People love this guy. A lot.
If you haven't yet seen the movie, Centineo plays the role of Peter Kavinksy, who enters a fake relationship with Lara Jean Song Covey (played by Lana Condor). Covey enters the relationship because she's trying to distract her sister's boyfriend Josh Sanderson from thinking she has a crush on him. (Fun fact: She did, in fact, used to have said crush.) Kavinsky is also down to be in the fake relationship because he wants to make his own ex jealous. A perfect win-win situation. Kavinsky is essentially the internet's dream boyfriend: He drives across town to get Covey's beloved Korean yogurt, he writes her love letters, and he slips his hand into her back pocket in the most adorable way.
TBH, if Centineo is even half as cute as the character he plays on-screen, he'll be a living angel.
Check out the entire Gen Why series and other videos on Facebook and the Bustle app across Apple TV, Roku, and Amazon Fire TV.
Check out the "Best of Elite Daily" stream in the Bustle App for more stories just like this!