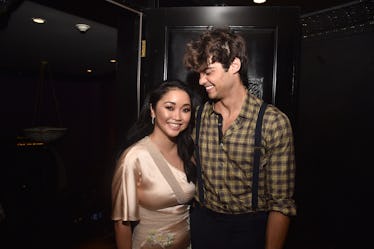 9 Signs Your Boyfriend Is Basically Peter Kavinsky, You Lucky Minx
Alberto E. Rodriguez/Getty Images Entertainment/Getty Images
If you've been anywhere on the internet in the last few days, you're probably already obsessed with To All The Boys I Loved Before's Peter Kavinsky (Noah Centineo). In the new Netflix movie, Lara Jean Covey (Lana Condor) enters into a fake relationship with jock superstar Kavinsky when her little sister Kitty (Anna Cathcart) secretly sends out the love letters Lara Jean wrote to her crushes in an effort to push her out of her shell. So why do Lara Jean and Kavinsky fake date? One of the letters Kitty sent (and Lara Jean wrote) is for her older sister Margot's (Janel Parrish) ex-boyfriend, and Lara Jean's former best friend, Josh Sanderson (Israel Broussard). And Kavinsky gets something out of the deal, too: His ex-girlfriend and Lara Jean's high school nemesis Gen (Emilija Baranac) recently dumped him for a college boyfriend, and he wants to make her jealous.
Warning: There are spoilers ahead!
So, the two begin a fake relationship, but they spend more time together than what's outlined in the contract. The lines between what's real and fake begin to blur. Did he have to invite her over to his house for dinner with his family to make his ex jealous? Did the two have to snuggle at some point for that picture to be his phone background? By the end of the movie, even though they just "officially" get together and reveal their feelings, we've seen these two interact in a real, loving way that you can't just fake the whole time.
Kavinsky is clearly the ultimate boyfriend and it's only natural to want a guy like him in your life. But take a closer look at your actual boyfriend. If he exhibits any of the signs below, it's possible that he's closer to Kavinsky that you might have guessed,