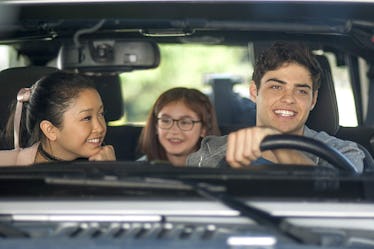 The Full 'To All The Boys I've Loved Before' Trailer Will Give You All The Warm & Fuzzy Feels
Netflix
For most people, being in high school is really, really strange. But for Lara Jean Song Covey, the protagonist of Netflix's new film To All The Boys I've Loved Before, high school is just embarrassingly tragic. The new romantic comedy will be hitting Netflix on August 17 and the streaming platform has just dropped the full trailer on YouTube. In the full To All The Boys I've Loved Before trailer, you can see actress Lana Condor as Lara Jean navigating the roller coaster that is teenage love. And honestly, the movie looks so sweet!
Based on Jenny Han's New York Times best-selling novel of the same name, To All The Boys I've Loved Before centers around Lara Jean, who writes love letters to all the boys she has crushes on. The hitch here is that Lara Jean never works up enough nerve to actually send these letters, so she stows them away at home. But when her letters are sent to her crushes (unbeknownst to her), Lara Jean's world is turned upside down.
See, Lara Jean writes everything in those letters. Her hopes, dreams, and fantasies about each crush and how she envisions their potential relationships panning out. She is a romantic in the truest sense of the word, but she's not prepared to let the world know that about herself just yet. Hence, her having to hide her heartfelt letters away in a box where no prying eyes can see them.
Here's a look at the trailer for this adorable romantic comedy:
In the full trailer for To All The Boys I've Loved Before, audiences finally get a glimpse of all those boys in question. There's "Peter with the beautiful eyes, Kenny from camp, Lucas from homecoming, John Ambrose from Model U.N., and Josh."
That last boy, Josh (Israel Broussard), is a huge problem because he's Lara Jean's older sister Margot's boyfriend. Oh, and Margot just happens to be played by Janel Parrish, aka Mona from Pretty Little Liars. So, basically, he's off limits.
As you can imagine, all hell breaks loose when Lara Jean's letters make their way out of her room and into the hands of her crushes — including Josh! Obviously, the mysterious mixup causes major issues.
In order to keep the peace, Lara Jean is basically forced to pretend she and Peter (Noah Centineo) have something romantic going on.
Overall, this movie looks really sweet. The trailer alone makes you feel kind of warm and fuzzy inside, almost like you're reliving those days when you had a high school crush yourself! From the looks of it, To All The Boys I've Loved Before has a genuine charm to it, as does its lead actors.
Condor and Cinteneo onscreen chemistry is already working wonders for them in the trailer. It should be interesting to see how their phony love affair times out in the full film. Audiences should also be on the lookout for Broussard, Parrish, and John Corbett, who all have supporting roles.
If nothing else, you can definitely expect this film to have a lot of heart and a sharp sense of humor.
To All The Boys I've Loved Before hits Netflix on Friday, August 17. So, be sure to give it a go!
To All The Boys I've Loved Before by Jenny Han, $7, Amazon