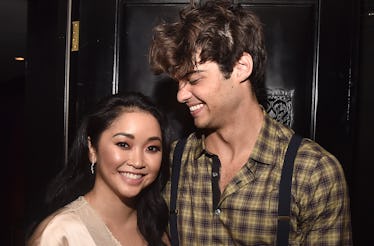 Lana Condor's Quotes About Noah Centineo Prove She Loves Him In Real Life Too
Alberto E. Rodriguez/Getty Images Entertainment/Getty Images
I'm late to the To All The Boys I've Loved Before party, but I'm glad I made it, anyway. I'm swooning over leads Lana Condor and Noah Centineo like whoa, baby. Me and everyone else on the planet, actually. Sure, sure, she technically says her boyfriend in real life is actor Anthony De La Torre, but that hasn't stopped fans from shipping her and Centineo. Lana Condor's quotes about Noah Centineo prove she loves him IRL, even if it's not love-love. Sigh. Her words for her costar are dripping with adoration and affection, and I'm totally here for it.
The Netflix movie is the rom-com sensation of summer 2018. The plotline follows Lara Jean (Condor), a lovable high schooler who keeps a series of love notes she's written to all of her crushes in her bedroom. Through a series of events, the letters get out and into the boys' hands. This includes her middle school crush Peter Kavinsky (Centineo). It's basically romantic-comedy bliss from there on out. Fortunately for TATBILB fans, Centineo and Condor are super close offset, too. It's made following the movie's press and stalking their social media accounts so much fun! They regularly pop up on one another's feeds and can't seem to stop praising one another.
For example, during an interview with MTV, Condor gushed about Centineo's talents and looks. She literally called him a "gorgeous, tall, beautiful man" before explaining, "To this day I just think he's the greatest guy ever, so it was not hard being his co-star at all. I have a huge crush on him. I like to think he has a crush on me but whatever."
It'd be good enough if she stopped there, but, oh no, she kept going. "He's amazing. He's an amazing guy," she said. "He's so talented."
It seems this outpour of Centineo-love is kind of Condor's thing. In another interview with Entertainment Tonight, she spoke candidly about the public's reaction to her smoldering costar and how she totally understands the obsession with him. "I'm not surprised. The moment I met him, I was like, 'Yup, that boy's gonna be a star,'" she said. "We all knew as we were shooting the movie that he was just going to break literally 15 million hearts. So I'm not surprised at all."
In addition to his good looks and charm, Condor also believes Centineo has truly awesome acting chops. She explained,
I'm honored to be on this journey with him and watch as he's growing and blowing up. He deserves all the recognition that he's getting and I think he's handling it really, really well. He deserves it.
I know what you're thinking — surely, she must have stopped there, right?
Nope. The love just kept coming.
For Condor, the entire To All The Boys I've Loved Before journey was made that much sweeter because of Centineo, specifically, and she feels their chemistry is one in a million. "I'm so happy that Noah is on this journey with me and it's Noah who I have as my partner through all of this because our chemistry is genuine," she said, adding:
Like, it has been since Day 1 and I've never felt chemistry like this ever before with any other actor that I've worked with. I think we both know that it's special and I'm just happy that it's him that I'm going through all this with. We make a really, really good team. It's been crazy. People truly want us to get married.
Yes. Yes, we do want you to get married. And by the sounds of it, you do too, girl.