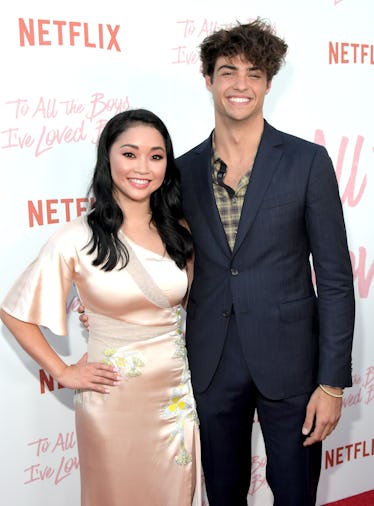 Lana Condor Can't Stop Gushing About Her Amazing Chemistry With Noah Centineo
Charley Gallay/Getty Images Entertainment/Getty Images
Lana Condor and Noah Centineo are the internet's favorite couple of the moment. The two stars of the new Netflix classic To All The Boys I've Loved Before have made the world swoon so hard with their on-screen romance as Lara Jean Covey and Peter Kavinsky that everyone who has seen the movie is aching for the actors to be a couple IRL. They keep on teasing fans with their cutesy Instagram posts of each other with flirty captions, which pretty much makes you wish with all your heart that they were dating. And now, Lana Condor's comments about Noah Centineo and their chemistry, while amazing and wonderful and everything I've ever wanted in one respect, is going to exacerbate that longing feeling.
Condor spoke with Entertainment Tonight about To All The Boys I've Loved Before's success and, naturally, the question of whether she (21) and Centineo (22) are dating each other came up. While she gave a lengthy answer, the words "yes" and "no" aren't included. But we can (and oh, we will) try to read between the lines here. "You hope that people will fall in love with your characters and I think they have," Condor told ET. "It's been great because I know both Noah and I feel the same way." The same way?! As in... you also hope you two will fall in love IRL?! "In the fact that I'm so happy that Noah is on this journey with me and it's Noah who I have as my partner through all of this because our chemistry is genuine." Damn it. I mean, Condor saying their chemistry is genuine gives me the will to carry on in life, but we pretty much know that they're not dating, so why must they play with our emotions like this?!
Because, honestly, how could they not be dating? How could they deny us this?!
Wow! That is genuine chemistry! Now please date.
Condor went on to tell ET that their chemistry has truly been there since the day they met. (An interview Condor did for MTV News shows her talking about how distracted she was by Centineo the day she met him at the audition for the movie, so that tracks.) "Like, it has been since Day 1," she told ET, "and I've never felt chemistry like this ever before with any other actor that I've worked with."
She continued,
I think we both know that it's special and I'm just happy that it's him that I'm going through all this with. We make a really, really good team. It's been crazy. People truly want us to get married.
Well, when he says things like "Lana Condor, you're the love of my life" on his Instagram story, what the hell else do you want us to wish for?! Centineo posted a video to his Instagram story recently where he literally calls Condor the love of his life, so there's that for you to swoon over.
Condor said the Centineo hype doesn't surprise her. "Just the thirst for Noah is just... It's a desert out there and everyone's so thirsty for him, and I love it," she said, adding,
I'm not surprised. The moment I met him, I was like, 'Yup, that boy's gonna be a star.' We all knew as we were shooting the movie that he was just going to break literally 15 million hearts. So I'm not surprised at all.
She also revealed that she watched To All The Boys I've Loved Before by herself to try and see if she could fall in love with Lara Jean Covey and Peter Kavinsky's relationship without any of her own personal context (which seems pretty impossible given she literally is Lara Jean Covey), and it worked. "I watched the movie by myself, and I took myself out of it — I'm just watching it for Lara Jean and Peter," she said, "and I fell in love with Lara Jean and Peter as well." She continued, "I was like, 'Oh my god, their relationship is the best relationship ever!' So I get it. I totally get the reaction, for sure."
So you agree? You think you and Noah Centineo should date? Cool, cool, cool, cool, cool.