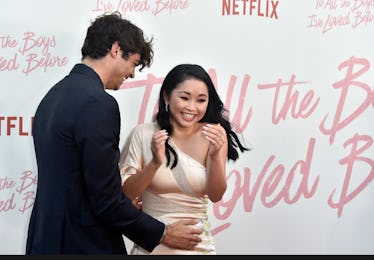 Noah Centineo & Lana Condor's Body Language Is So Intimate, I Can't Deal
Frazer Harrison/Getty Images Entertainment/Getty Images
If you haven't dedicated an hour and 39 minutes of your life to To All The Boys I've Loved Before, do it. Do it right now. If not for the storyline of two high schoolers whose fake relationship leads to them to actually fall for each other, at least do it for Noah Centineo and Lana Condor's perfect portrayals of Peter Kavinsky and Lara Jean Covey. Shippers everywhere are aching for these two to date IRL, but since they're not, all we can do for now is analyze every little detail about them, like Noah Centineo and Lana Condor's body language off-screen, because we already know they have plenty of on-screen chemistry.
[Warning: Spoilers ahead!]
In Netflix's new hit To All The Boys I've Loved Before, our main character, Lara Jean Covey, has had five major crushes. They've been so big, that she writes each of them a letter. She keeps them all in a super secret box, all addressed to her biggest crushes: a boy from camp, a past model UN-er, her older sister Margot's boyfriend, Josh (yikes), a boy she danced with at homecoming freshman year, and of course, lacrosse star and all-around ~cool kid~ of Adler High School, Peter Kavinsky. In an attempt to get her older sister a boyfriend, Kitty, Lara Jean's little sister, mails out all five letters. Lara Jean doesn't know the letters have been mailed out until Peter Kavinsky approaches her, letter-in-hand, flattered, but ready to turn her down. As this is happening, Lara Jean sees Josh, Margot's ex, coming towards her with his letter in hand, too. LJ swerves him by kissing Peter instead.
Even though Peter was reluctant to want anything to do with Lara Jean initially, when he finds out that his ex Genevieve (who had recently dumped him for a college boy) got jealous after hearing Peter and Lara Jean kissed, him and Lara Jean strike a deal. They enter a fake relationship to continue to make Gen jealous and convince Josh that Lara Jean no longer has feelings for him. As predicted, these two begin to develop real feelings for each other, and the movie ends with them entering an actual relationship. How cute is that?!
Saying that Peter and Lara Jean have an incredible connection is an understatement. Their body language and just the way they are with each other in the movie speaks wonders. Now, I know I'm not the only one who'd love to see that romance spill over into the real world. Because of that, I reached out to Traci Brown, body language expert and author of Persuasion Point: Body Language and Speech for Influence, to see what she thinks about these two not-so-real-life-lovebirds. And her take? They're definitely intimate with each other.
Now now, it's not what you think. Condor is not cheating on her longtime boyfriend and fellow actor, Anthony De La Torre. But, Condor and Centineo are definitely really close, as seen on and off screen.
This picture "shows lots of intimacy," Brown tells Elite Daily. "People who aren't really, really close [don't] give others access to that private area." And that makes total sense. The closeness Centineo and Condor exhibit on set shows that they're beyond comfortable with each other.
Before we jump into the body language analysis of this picture, can we just pause for a second and look how cute this freaking picture is?! Look at his smile. The way he's looking at her. The way they look together. I. Cannot. Deal. Agh. OK, I'm done now. (I think.) "It's interesting because she's focused on the camera, but he's focusing on her," Brown says. "It's pretty hard to look at someone in that close of a range if you're not really, really connected and intimate with them."
OK, so hear me out. We know that Condor is in a relationship with Anthony de la Torre, but Centineo is single. Imagine if he actually was in love with her. Ugh, that'd be everything! Not to mention, back in June, he called her the love of his life on social media, after the whole cast attended Vidcon in Anaheim, California, to talk about the film. I don't know about you, but I do not throw those words around lightly.
"When they're grabbing each other [like this], the most notable body language is how spread out her fingers are," Brown explains. "That can show ownership." So, if he's looking at her like that (see above), and she's grabbing him like this, could there be something more there than just a really close bond? Brown doesn't think so.
"In this shot they aren't in too much of a V shape with their shoulders, they're much more side-by-side. I think we'd see a deeper V if they were dating," she says (shooting down my hopes and dreams). But, "see how their hips are touching on the red carpet? You don't touch hips with someone you're not intimate with. And actors are intimate in their jobs, not always in real life. But [Condor and Centineo's] intimacy for sure transfers over."
The experts and the celebrities have spoken. Centineo and Condor are not dating, but they are incredibly close. Oh, how I wish they were! For now, I wish Condor all the best with her boo, and hope that Centineo finds his real-life Lara Jean. In the meantime, I'll be rewatching these two beauties fall in love in To All The Boys I've Loved Before, and continue scrolling through all their adorable pics together. Wishful thinking, right?