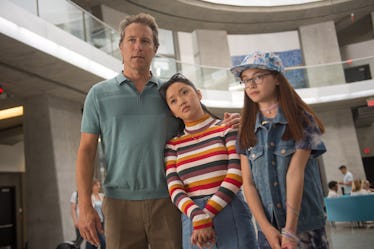 Kitty From 'To All The Boys I've Loved Before' Revealed Whether She's Team Peter Or Josh
Netflix
Little sisters everywhere saw a part of themselves in the youngest Covey sister Kitty in the Netflix rom-com hit To All the Boys I've Loved Before. Always dressed to a T in her girl-power-themed wardrobe and delivering quick-witted jokes about Lara Jean's driving, Kitty was also responsible for sending Lara Jean's letters to her crushes and essentially causing her fake relationship with Peter Kavinsky. Kitty may have bonded with Peter over the course of the movie, but To All the Boys I've Loved Before's Anna Cathcart revealed if she's Team Peter or Josh, and Lara Jean probably would've agreed with her before her letters were sent out.
15-year-old Cathcart, who has previously appeared in the PBS Kids series Odd Squad and the Disney Channel Original Movie Descendants 2, spoke with Vulture about her role in the instantly beloved Netflix movie, which debuted on Aug. 17 to rave reception. Playing the token little kid in a movie can be tricky, but Cathcart won over viewers with her bubbly delivery and believable sisterly relationship with Lana Condor's Lara Jean. Kitty was inspired to send Lara Jean's letters to push her out of her comfort zone, but for Cathcart, the boy next door would have been totally OK to end up with by the time the credits rolled.
Cathcart told Vulture:
Well, when I read the book I was definitely team Josh because he is such a nice guy and he has been friends with the sisters forever, and he comes over for dinner and he is just so nice... He needs a happy ending too, so I was definitely team Josh. But Peter is so nice and so great, too. At first I thought Peter was too much of the cool guy, the jock that everybody knows and loves, but who's a player. But that's just his first impression. He is really nice and sweet. They are both good, but I still think Josh needs a happy ending.
Team Josh, Kitty?!
Although he'll never measure up to Peter Kavinsky, poor Josh Sanderson (Israel Broussard) had some rough times in To All the Boys I've Loved Before. Lara Jean and Kitty's big sister, Margot, broke up with him minutes into the film, wanting to go to college in Scotland unattached. His friendship with Lara Jean, a strong factor in her life before Margot dated Josh, then weakened as Lara Jean grew closer to Peter despite the fact that Josh received her love letter and wanted to discuss it.
Unfortunately, according to Jenny Han's trilogy that the movie is based on, Josh's role only decreases in sequels P.S. I Still Love You and Always and Forever, Lara Jean. If filmmakers are sticking to the books for guidelines of what to include in a movie sequel (fingers crossed!), a romance for Josh probably won't earn a subplot, but Hollywood always has room for some adjustments.
While the Covey sisterhood is still going strong (Cathcart says they have a group chat together), their chances of reuniting with Josh in a possible sequel aren't that strong even if the creative team takes some liberties. As seen at the very end of To All the Boys I've Loved Before, Lara Jean's crush from Model UN, John Ambrose McClaren, shows up at the Coveys' house ready to declare his love for Lara Jean. The quick scene references the character's role in Han's sequel P.S. I Still Love You, and if another Netflix movie comes to fruition, John Ambrose will likely take over the "other guy" role Josh had in the first film.
Despite her questionable preference for Josh over Peter, Kitty is a must for cast members appearing in a second film. After all, we have her nosiness to thank for the beauty that is Lara Jean and Peter together. Here's hoping a sequel would involve all of the yogurt drinks and car rides Kitty desires.