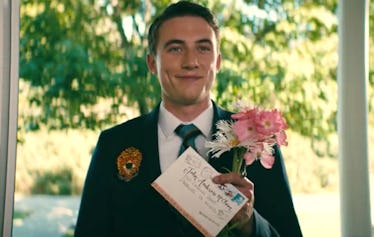 Fans Want John Ambrose McClaren To Be In A 'To All The Boys I've Loved Before' Sequel
Netflix
Netflix's adorable teen rom-com To All The Boys I've Loved Before has captured the hearts of audiences since its Aug. 17 release, and fans are anxiously awaiting official word of a follow-up. The film is adapted from Jenny Han's YA book trilogy, so the material is basically just sitting there waiting to be brought to life on screen. If a second movie gets made, one plot twist from the movie involving a barely-seen character's future is piquing viewers' curiousity. Will John Ambrose McClaren be in a To All the Boys I've Loved Before sequel? His presence seems like a natural way to shake things up for Lara Jean. Warning: Spoilers ahead for those who have not seen all of To All The Boys I've Loved Before.
To All The Boys I've Loved Before stars Lana Condor as timid high school homebody Lara Jean Covey. Lara Jean has a secret: She has a stash of love letters she's written to important crushes over the years hidden in her closet. Unfortunately for her, her private notes are mysteriously mailed out to the guys — even though she never intended to send them — and thus, her inner-most feelings are exposed. Needing to do damage control, Lara Jean hatches a plan to strike up a fake romance with popular lacrosse player Peter Kavinsky (Noah Centineo) to throw off the guy she's actually in love with, Josh (Israel Broussard), who just happens to be her sister's ex. It's all very complicated, but what ensues is one heck of a romantic ride.
The film concludes with Lara Jean about to embark on a real relationship with Peter. Happily ever after? Um, maybe. The credits sequence serves up a juicy cliffhanger, revealing that someone from Lara Jean's past is literally knocking on her door. That would be John Ambrose McClaren (Jordan Burtchett) from her childhood days on model UN. He's a love letter recipient the audience and Lara Jean haven't previously heard from. Interesting...
"There's so many things in the second book that I would love to see in a sequel," author Jenny Han told IndieWire when discussing the potential for more movies. "The whole reason why I wrote a second book was for the character of John Ambrose McClaren, who is a fan favorite, and he's a favorite of mine too. I would love to see that explored, and also there's a character called Stormy that I love to write. I would love to see that."
P.S. I Still Love You is the title of the second book in Han's series and Always and Forever, Lara Jean is the name of the third. To All The Boys I've Loved Before's director Susan Johnson also has hopes for what narratives might be explored further should more films get green lit. She revealed to ET that there might be trouble ahead for Lara Jean and Peter:
The struggle of what that means and not having a contract and trust — all those issues that they talk about on the field at the very last scene. Relationships are hard to navigate and they'll find themselves in one. And they'll discover what the next person might bring in John Ambrose McClaren.
Fingers crossed for a sequel announcement soon. The rest of Lara Jean's love story pretty much demands to be told.