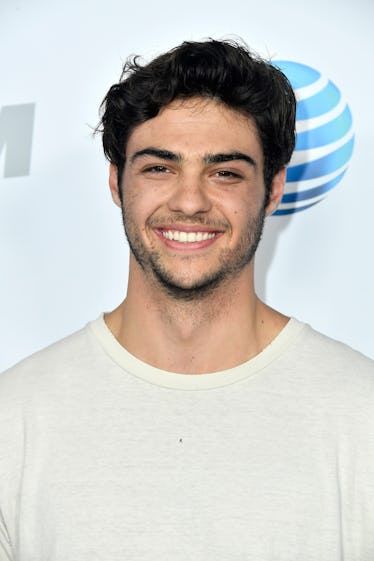 Noah Centineo Just Revealed Whether He'd Date A Fan, But His Answer Might Shock You
Frazer Harrison/Getty Images Entertainment/Getty Images
Noah Centineo is everyone's crush right now thanks to his role as Peter Kavinsky in To All The Boys I've Loved Before. While people of all kinds are swooning over Centineo and his boy-next-door charm, the 22-year-old actor isn't exactly chasing the opportunity to find himself a girlfriend. But when the time is right, would Noah Centineo date a fan? His answer to that question may not be what you hoped for.
In an interview on the Thursday, Aug. 30, episode of E!'s Daily Pop, Centineo opened up about the possibility of dating a fan. Unfortunately for all the hopefuls out there, he's not open to the idea at the moment and for good reason.
Asked if he would ever date a fan, Centineo responded, "I don't close any doors totally, but probably not, because then it's like more of an infatuation with like, a position more than like, the person. It can overshadow that, which is difficult, I would think."
And that, my friends, is a very reasonable response to such a question. As an actor and as a celebrity, Centineo has to consider the fact that the general public may view him differently than who he actually is. So, in keeping the fan-dating door closed, he's protecting himself and the fans from any harm and that's a commendable mindset to have.
Outside of his fan base, though, he's definitely left all his options open. But does that mean he'd date his co-star Lana Condor? Not if she has anything to say about it.
In his interview on E!'s Daily Pop, Centineo recalled the day he met Condor during auditions for To All The Boys I've Loved Before.
"When we first met in the audition room before any of us had booked it, we were sitting waiting in like the lobby and I saw her and I was like, 'Hey do you want to run lines?'" Centineo said of meeting Condor. "And she was like, 'No.' I was like, 'Oh, that's cool, fine, I'll just die here.'"
Centineo then added, "I didn't even remember asking her that. She had actually told that story months later in the press."
So, way before landing his breakthrough role, Centineo faced a host of rejection. But it worked out in the end.
When asked if he thought Condor assumed he was hitting on her, Centineo said he wasn't sure whether that was the case.
"I don't know. Maybe … No, I ask people to read lines in the audition room if they look nervous! I was just like, hey, I could always run my lines," he explained. "It's always easier if you're running with a stranger before you do it with the casting director. It helps you get the nerves out. And if someone else looks nervous, then it totally is gonna help them too. If you can do it with some random person you just met, you can easily go into a room and do it again."
Aw, it sounds like he's a real sweetheart! I'm sure whoever snags him up, fan or not, will be totally deserving.