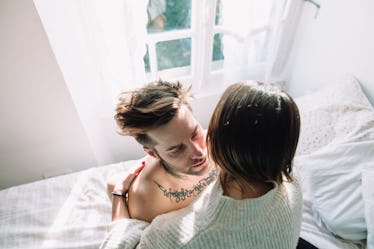 5 Steamy Reasons You Love To Be On Top In Bed
If you tend to be the receiving partner, vaginally or anally, there are loads of reasons to be on top in bed. Whether you're giving a hearty yeehaw to reverse cowgirl (hello, roleplay!) or experimenting with furniture and f*cking, being on top can mean more satisfaction all around. It can give you a better angle to be receive pleasure. Or, being on top can provide a better angle to give it, especially if you're riding your partner in a mischievous, teasing way.
Most on-top positions allow for one partner to be penetrated, with both partners' erogenous zones — nipples, chest, stomach, back, thighs — accessible for teasing. You can even add in a sex toy to make the pleasure that much more profound. Overall, it's a way to give and receive in heightened, ultra-intense way.
While getting on top in bed can be nerve-wracking or even uncomfortable, it doesn't have to be. When trying it with a partner, have them lay down flat on their back and gently straddle them. Make sure you're upright and that your knees are on each side of their body. It's A-OK to take their strap-on or penis, and guide it inside you. (Lube is 100% recommended, if the angle isn't super comfortable in the moment, or hasn't been in the past.) The rest is about finding your rhythm on top.
Here are just a few reasons why it's so sensational to graduate from missionary to being on top.