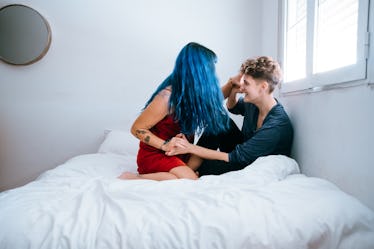 5 Sex Moves To Try When You're Role-Playing, Because You're A Star
Although you and your partner probably love each other for exactly who you are — there's no denying that pretending to be someone else for a night can be totally sexy. Whether you've always wanted to live out a fantasy scenario or the idea of wearing a costume in the bedroom makes you totally hot, these five sex moves to try when you're role-playing may be totally up your alley.
Fantasy can be fun, but like any good party, it can ultimately take some initial pre-planning. Though role-playing may mean acting in the moment, it's important to discuss consent and boundaries with your partner before diving into a scene. Having a safe word, or otherwise establishing some guidelines and standards that work for you, can be a great practice. Role-playing can be a super sexy way to leave your inhibitions at the door and tap into your sensual side, but you don't want to jump into motion without checking in first about what you will be doing. From costumes to props, there is no shortage of ways to dip your toes into the role-playing pond.
If you think you want to try role-playing, here are five moves to get you started.