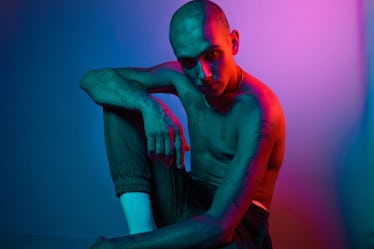 3 Zodiac Signs That Really Love Being Called "Daddy" In Bed
When it comes to sexual dynamics, certain signs are 100% likely to call the shots in the bedroom. Sometimes there's grey area — for example, Geminis, Sagittarians, and Capricorns like to both dominate and be dominated in the bedroom. It just depends on the partner and what kind of mood they're in when things are getting hot and heavy. But there are for sure some zodiac signs that love being called "Daddy" in bed.
While it may be cringey for some folks, throwing "Daddy" around during sex is super hot for some. As sex therapist Vanessa Marin explained to Broadly, "Yes, 'daddy' can mean 'father,' but we also use the word to indicate when someone is the boss, in charge, a protector, or doing a good job." So it follows that signs who enjoy the nickname are also those who — you got it! — enjoy being the boss, in charge, or doing a really good job. They're typically the ones who love to spearhead cooking in the kitchen, drag a group project from the depths of hell, and yes, be the dominant partner during sex. Here are the three signs that get all heated when you call them "Daddy" in bed.