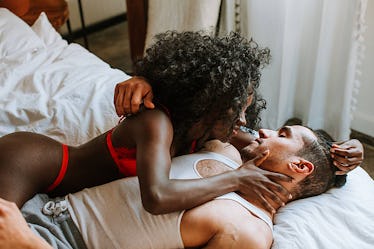 A New Study Determined How Good You Are In Bed, Based On Your Zodiac Sign
Just as we all have different styles of walking, writing, dressing, dancing and doing pretty much everything in life, we also each have different approaches when it comes to making love. And, according to a new survey of 3,500 people conducted by sex toy retailer Lovehoney, a lot of those differences in how we are in the bedroom can be attributed to our star signs. So, if you've ever caught yourself thinking questions like, "am I good in bed?" or "what kind of lover am I?", look no further!
According to the survey, more than a fifth of respondents (21 percent) admitted that they'd like to know a potential partner's star sign before entering a relationship with them in order to gauge compatibility. And for good reason! In their survey, the people over at Lovehoney HQ were able to find all sorts of interesting ways in which our star signs influence our preferences in the boudoir.
Whether you're an Aquarius who has sex all the time, a Cancer who's a super faithful lover, a Leo who likes to play games, or a Scorpio who always wants to do it, read along and see what your star sign says about how you behave in the bedroom.