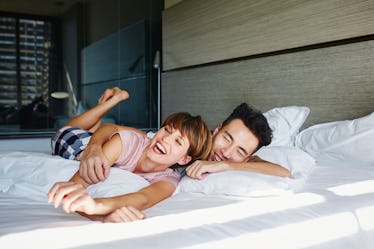 12 People Reveal What Makes Someone Good In Bed, & It Just Got Hotter In Here
From an objective perspective, it's important to acknowledge that what makes someone good in bed isn't the same across the board. Pleasure is subjective, and everybody experiences and explores their sexuality in different ways, on their own terms. That said, having great sex isn't just about the stars aligning and being 100 percent sexually compatible from the start. Having great sex is also about recognizing that not everyone's body reacts the same way. The sex move that made your ex lose it could end up being totally meh for your current partner, and that's OK. Talking about what turns you both on and what you specifically like in bed can be super fun, and honestly, very, very hot.
Before we get into what "makes" someone good in bed, let's take a second to debunk the myth that asking what someone likes in bed is "unsexy." Sure, explaining what goes where, à la birds and the bees, can definitely get awkward. However, hopping in bed with someone who cares about pleasuring you enough to verbally ask what turns you on is sexy. Plus, the chances of climaxing (another sexy thing) are a lot higher if there is some communication going on, you feel me?
If you're still unsure about what makes someone "good" in bed (Hint: Everyone's different! There is no wrong or right answer!), folks on Reddit have chimed in on what they think does the trick, from their perspective. Remember: This is what has worked for them. What works for you can be completely different, and that's OK!