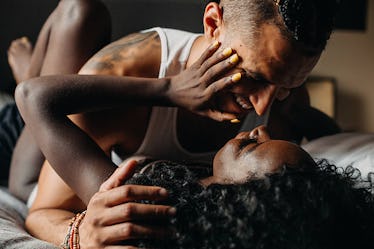 The Sex Move To Try If You Haven't Seen Bae In A While, Based On Your Love Language
Long-distance relationships are tough. When you're reunited with your S.O. after a long time apart, the sex can either be mind-blowingly amazing or a little awkward. Sometimes it takes a minute to find your groove again. Try one of these five sex positions if it's been awhile since you and your partner last saw each other, and focus on re-establishing intimacy in other ways as well. You want to feel physically close to your partner, of course, but strengthening your emotional connection can make your reunion even more special.
"If you've been apart for a while, focus less on sex moves and more on connection," says sex and intimacy coach Irene Fehr. "The urge and pressure might be to get on with it, but there is often a need for a transition period back to each other after time spent apart. Slow things down so you can connect. Feel each other."
Fehr suggests a few ways to slow down and reconnect with your partner, including easing into intimate conversation, facing each other while clothed or naked and looking into each other's eyes, caressing or softly touching one another, and hugging or holding each other.
"What each person needs to feel close to their partner often depends on their love language," says Fehr. "Someone whose language is touch might need touch to reconnect. A person who values words of affirmation might need to hear their partner's appreciation. If you are in a long-distance relationship, ask your partner ahead of time what would make them feel loved and close so you know how to be with them, and of course share what works for you."
Each of these sex moves is based on one of the five love languages. Discover your love language and then try the move that best fits your needs.