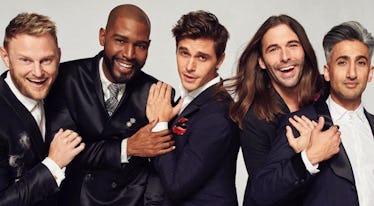 'Queer Eye's Fab Five Low-Key Represent The Five Love Languages
Netflix
It's no secret that Queer Eye is the most uplifting show on television right now. I mean, if you don't find yourself in a puddle of happy-tears after each episode, then you're just not human. But why exactly is this show so heartwarming? "Feels" aren't really something you can quantify, but there is one pseudo-scientific explanation that came to my mind. Queer Eye's Fab Five represent the five love languages, which makes for an effective way to get through to anybody on their show who needs some love... and anyone watching it.
In case you aren't familiar, the five love languages originated from a 1995 book by Gary Chapman, The Five Love Languages: How to Express Heartfelt Commitment to Your Mate. In the book, Chapman lays out what he claims to be the five ways that everyone in the world express or experience love. He goes on to say that each person has one primary love language out of the five he lists, and that knowing the love languages of your partner, family, and friends helps you know how to care for them.
Honestly, the goal of the book is very similar to the goal of Queer Eye: to spread love by learning to understand one another. That's why it makes sense to me that each member of the Fab Five seems to represent one of the love languages. Here, I'll break them all down:
1. Jonathan Van Ness — Words of Affirmation
It is actually difficult to find a moment on Queer Eye when Jonathan is not gushing over the person he is helping to make over. The hairstylist is the personification of the Words of Affirmation love language, so much so that he may inadvertently call every tiny thing about you "gorgeous" without giving it a second thought.
2. Antoni Porowski — Acts of Service
As the food expert of the Fab Five, Antoni often stresses the importance of spending the time to cook a meal for your loved ones. His gift to each of Queer Eye's subjects is a recipe that they can use to impress and show their gratitude for their loved ones, which is exactly what the Acts of Service love language is all about. In fact, cooking a meal is one of the most common examples of how someone with an Acts of Service love language might express their affection.
3. Bobby Berk — Receiving Gifts
Bobby Berk is the perfect fit for the Receiving Gifts love language. While the other four members of the Fab Five typically spend much more time interacting with each episode's subject to get to know them, Bobby has a talent for quickly honing in on the physical objects that they find special and using them to imbue emotional value into his home makeovers.
4. Karamo Brown — Quality Time
Before Queer Eye premiered, there was a bit of confusion about exactly what Karamo's role of "culture" would entail, but now it's clear that Karamo is basically a life coach for each subject. The common thread for Karamo, though, is that he will always push people to be better versions of themselves, both for themselves and for their loved ones. One of his biggest lessons is to put aside any distractions in your life and spend time with what really matters, which is also the core of people with a Quality Time love language.
5. Tan France — Physical Touch
Admittedly, pretty much all of the Fab Five seem very comfortable with physical touch, especially Tan, since it is an integral part of his area of expertise: fashion. Tan shows his affection for other by helping them best display their physical selves, which involves an expert knowledge of bodies and physicality. While Tan does not appear the most touchy-feely on the series, anyone who has watched the Fab Five in interviews knows that he is the first to hold hands and grab his cast-mates. It all boils down to a Physical Touch love language.
Oh, and after all this talk about the five love languages, you are probably curious about what yours might be. You can take this quiz to find out!