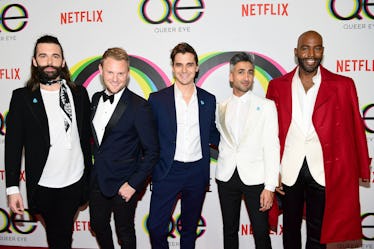 Here Are The Most Emotional 'Queer Eye' Episodes, Ranked
Emma McIntyre/Getty Images Entertainment/Getty Images
I refuse to acknowledge a time before the beloved Fab Five came into our lives, because an era without Tan's french tucks or Jonathan's "yass henny's" is one I don't want to remember. When Netflix dropped Queer Eye back in February, the show became an instant hit. Suddenly, people across America were sobbing into their pinot grigios and learning the most precise methods for avocado slicing (Antoni is a great cook, don't @ me). The team, which includes designer Bobby Berk, culture expert Karamo Brown, stylist Tan France, groomer Jonathan Van Ness, and chef Antoni Porowski, charmed audiences with their endearing dynamic. And as we watched the most emotional Queer Eye episodes unfold with tear stained cheeks, the fab five worked their magic, making over 17 participants in need of a confidence kick.
After season two released on Netflix June 15 (and I promptly cried my way through nine new episodes), all I wanted was a season three. And now, it's almost here! Fresh off the heels of their July renewal, the boys jetted off to Kansas City, Missouri for filming. So, if you need me, I'll be rewatching old episodes and refreshing Instagram for updates.
Here are the 7 most emotional episodes, ranked; they'll supply you with enough tears for the Season 3 countdown.
7. "Bedazzled" - Season 2, Episode 7
Honestly, I could sob over Sean's apartment makeover alone, because frankly, it's everything. But it's this homeschooled 18-year-old's foray from socially awkward pianist to leather jacket-rocking performer that charmed audiences most. In the episode, we meet Sean and his godmother, Lulu, who raised him. In her attempt to foster his talent, she played momager (think innocent, southern Kris Jenner) and booked him to play at nursing homes. Which, I guess is kind of fitting, because Sean is an old soul trapped in a teenage body. But as we watch him grow and prepare for his upcoming college adventure, by episode end, he reunited with old friends and played a much hipper venue.
According to Bustle, the Georgia-native is still in school, making music, and posting #OOTD's on Instagram. So, looks like he's adjusting to college life just fine.
6. "Dega Don't" - Season 1, Episode 3
I could go on and on about this Winder cop's Walmart date nights and penchant for dress up Talladega parties, but I'll focus on what really matters: Cory and Karamo's productive conversation on police brutality. After the unsuspecting Fab Five is pulled over, and Karamo is asked to step out of the car, there is a very real moment of fear. The cop is quickly outed as a friend of their next makeover subject and everyone is relieved. However, Karamo remains noticeably shaken throughout the episode. "It speaks to the fact that no matter how I identify, me being a black man always comes first," Brown later told TV Guide.
Following the run-in, Karamo and Cory discussed the issue. "I was totally shut off. The perception right now, especially between black people and cops, it's tension," Brown admitted. "I really thought that, you know, this was going to be that incident where I was gonna get dragged out of the car." Cory was able to acknowledge Karamo's concern, and it created a special moment between the pair.
5. "A Decent Proposal" - Season 2, Episode 2
I'm not going to lie, I did cringe a little bit in "A Decent Proposal," but only because the thought of a public engagement gives me actual hives. It's still a tear-jerker, I promise. Just seconds into the episode, it's clear that the starring couple is crazy in love. Or should I say, in Shannan (if you know, you know). All William wants to do is to give his girl the proposal she deserves. So yes, this is where the waterworks commence. The avocado of my eye, Antoni, teaches William how to make something other than wraps, Tan does his usual french tucking, and Jonathan takes 10 years off his life with a fresh cut. They then make a rom-com-esque short film for William to propose with, and he finally pops the question. They cry, the boys cry, we all cry.
If you ship William and Shannan just as much as Tom and Abby, brace yourself, because everyone's favorite Queer Eye couples are double dating. "Coming this Saturday. Double date with Tom and Abby," William tweeted. Obsessed.
4. "Sky's The Limit" - Season 2, Episode 5
They really got me from the jump in "Sky's The Limit." The episode opens with the guys gathered in their chic Atlanta loft, watching back a tape of their first transgender subject, Skyler, waking up from top surgery. Sky cries, the Queer Eye boys melt, and *shocker* I dissolved in tears. Skyler lived his entire life feeling out of place in his own body, and once he's finally at home and living freely, it came time to kick his bro-tank addiction. Also, those flat brimmed hats.
While, the entire episode is undoubtedly emotional, I think one of the most powerful moments came during the sit down between Skyler and Tan. Tan admitted his own ignorance surrounding the transgender community, and leaned into Sky for a better understanding. It was a new kind of teaching moment for the show.
Despite coming under fire for the episode, Skyler jumped to the hosts' defense, telling Bustle:
They're even more amazing than you get to see and I'm sad that you don't get to experience how truly amazing, not just those guys … the crew as well. They're all just really really great people and it was like spending time with family that whole week.
3. "You Can't Fix Ugly" - Season 1, Episode 1
Sweet, sweet Tom was our introduction into the Queer Eye world, and it was this lonely dump truck driver's astounding transformation that ignited the obsession. Tom took to Tan, Antoni, Bobby, Jonathan, and Karamo immediately (same), and was eager to win back his ex-wife, Abby, with their help. We all watched - hearts melting - as the divorcée learned the trick of green concealer, got a much needed beard trim, and took Abs on a date. The purest of pure. After Berk works his typical magic (he's a design wizard), and the group settled into Tom's new backyard, he tearfully announces, "y'all have fixed ugly." They gush, cheers redneck margaritas, and cry some more.
Despite a short-lived split, Tom and Abby ultimately remarried in March and later shared their wedding photos on Twitter. Speaking to Entertainment Tonight about the nuptials, resident fashion advisor Tan France said:
We did hear from him today and we couldn't be happier. Watching Tom with Abby was the most beautiful thing. You can tell how much he loves her. They've been married already and there's gotta be something there if he's so desperately wanting to marry her again. I couldn't be happier for him. He's one of the nicest men I've ever met in my life.
2. "To Gay or Not Too Gay" Season 1, Episode 4
AJ Brown had a lot of potential going into the episode, "To Gay or Not Too Gay." He was already attractive, with a great apartment, and in an even better relationship. But the 32-year-old civil engineer was hiding behind ill-fitting clothes, a non-functional bedroom, and his secret life. Despite having already come out to his friends, AJ was weighed down by one major regret: He missed the chance to tell his late father about his sexuality. As the Queer Eye boys push Brown out of his comfort zone and into more flattering attire, he gains the confidence to finally get real. In the emotional scene, AJ reads his tearful stepmother a letter addressed to his father. In it, he comes out to both.
If you sobbed your way through the clip, you're really going to lose it now. AJ and his partne are officially married. So, love is real!
1. "God Bless Gay" - Season 2, Episode 1
If you were at all worried that Season 2 couldn't possibly exceed Queer Eye's initial success, Episode 1 was a relief. Mostly because you were sobbing 30 seconds in. Tammye, the show's first female subject lives in Gay, Georgia, and is by all accounts a saint. The teacher, cancer survivor, single mother, and church leader (yes, really) is prepping for her congregation's annual homecoming, and is hopeful her gay son will attend. Despite having recently moved back to the area, Myles feels ostracized by the community for his sexuality, and it's holding him back.
While, Tammye is the seemingly perfect momma bear, she opens up about the regret she carries for how she handled Myles' coming out in high school. There are apologies, a big love sesh, and really good makeovers. That's right people, we got a two-for-one! I obviously cried when Myles' was invited to join the all-gay choir, and later he agreed to attend homecoming, but what really got me was Tammye's convo with our very own Bobby Berk. We'd seen glimpses of Bobby's complex relationship with religion in season one, but it's in "God Bless Gay" that things really come to a head. After pouring his sweet soul out to Tammye over his childhood church's rejection, Tammye shows him acceptance. "The greatest commandment of these is love," she says, as all three of us (her, Bobby, and me!) drowned in tears. "You're God's son. It's OK."