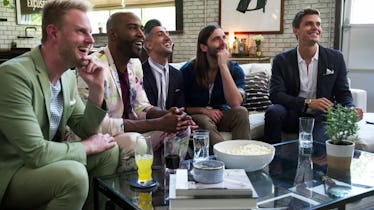 'Queer Eye' Season 3 Is Officially Happening, As If You Haven't Happy Cried Enough
Netflix
It's been quite the week for the Queer Eye Fab Five. First, the hit Netflix series swept up four Emmy nominations for Outstanding Structured Reality Program, Casting, Picture Editing, and Cinematography. And now, as the cherry on top of the cake, Netflix announced that Queer Eye Season 3 is officially happening. Can you believe? Get ready for a new batch of heroes to fall in love with the men of the series while you sob happy tears into a pint of ice cream.
On social media, the Queer Eye account shared news of its renewal with a road trip announcement. For the eight-episode third season, the Fab Five will be packing up the Atlanta loft and heading out to Kansas City, Missouri, to continue turning the world into a better place. According to Variety, the filming of Season 3 begins sooner rather than later on July 16, just one day after the 15th anniversary of the original Queer Eye show's premiere on July 15, 2003. So, basically, everybody involved already knew another season was happening, right? Way to keep a secret, Netflix!
Based on this Twitter clip, I'm hoping we definitely see some actual road trip footage in the first episode of Season 3. Something tells me that driving with the Queer Eye guys would involve quite epic singalongs to killer playlists.
Some of our favorite leading men have already responded to the announcement, of course, and the location change marks a homecoming for design expert Bobby Berk, who grew up in Missouri.
The celebration of Season 3 comes the day after Twitter exploded upon the show receiving its Emmy nominations. We have to wait until 2019 to see Bobby, culinary expert Antoni Porowski, Jonathan Van Ness (grooming), Karamo Brown (culture), and Tan France (fashion) back in action, but here's hoping they show up in coordinating outfits on the Emmys red carpet.
The original Queer Eye series, which ran for five seasons on Bravo, also had its fair share of love at the Emmy Awards. It scooped up an award for Outstanding Reality Program in 2004, long before reality TV truly launched and the Television Academy developed the slightly confusing Structured and Unstructured Reality Show categories. A structured reality show essentially includes a scripted situation — the Fab Five giving people makeovers — but the dialogue and plotline of each episode is unscripted and always unpredictable. Since the Structured Reality section began in 2014, Shark Tank has won for four straight years. The ABC show also received a nomination this year, but perhaps the healing power of Queer Eye is enough to end the show's winning streak.
Just as they came together to cheer on the show's Emmys recognition, Queer Eye fans also showed up on Twitter to celebrate news of a third season. Where is this fandom's Emmy for such great support of the show?
Apart from hitting the road in Season 3, do you think we could expect another twist to the typical Queer Eye format? Queer Eye does frat houses? Queer Eye visits a human resources department full of women named Linda? There has to be a new creative angle that is bound to make us weep even more than usual while watching Queer Eye, and I'm keeping track of all of my ideas.
Seasons 1 and 2 of Queer Eye are now streaming on Netflix. Season 3 will debut in 2019. Finger crossed that we can spot the Fab Five in all of their suave perfection at the Primetime Emmy Awards on Monday, Sept. 17, at 8 p.m. ET on NBC.