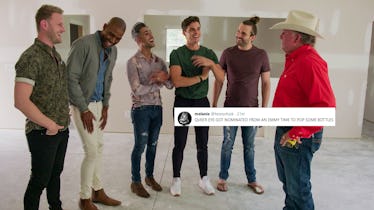 'Queer Eye' Just Earned 4 Emmy Nominations & Fans Are Screaming "YASSS"
Netflix
When was the last time something so delightfully pure and loving scored enough mainstream attention to snab an Emmy nomination? I can't even remember when, but now I have a new moment to think of when it comes to that question. Queer Eye earned four Emmy nominations and fans are screaming, "YASSS."
The heartwarming Netflix show only recently returned with its second season, but its first season just earned four Emmy nominations. Can you believe? The show's biggest nod is for Outstanding Structured Reality Program, but included among its other recognitions are nominations for Outstanding Casting and Cinematography. Well, seeing as fans get just as invested in the subjects of Queer Eye's makeovers as they are in the Fab Five, that Outstanding Casting nomination certainly makes a lot of sense. After all, what would Queer Eye be without our star men?
For anyone wondering, "structured reality show" is basically defined as a TV show with a scripted situation but natural dialogue. Think of The Bachelor — we all know how the main gist is going to go down every season, but the plot and the way the contestants talk to each other always change. Queer Eye faces off against Shark Tank, Who Do You Think You Are?, Lip Sync Battle, Fixer Upper, and Antiques Roadshow in the category. Alex, I'll take "Shows That Have Nothing In Common" for $200.
Of course, the Queer Eye fandom is totally celebrating the show's special nods, but it wouldn't be a celebration without checking to see how the Queer Eye crew is marking the special occasion first. The gang quickly took to Twitter to share the news with their followers, and judging by the video of the reactions of the people at the Fab Five loft, they're just as shook as we are.
The individual men also shared messages with fans. Grooming expert Jonathan Van Ness, who also received a nomination for a Funny or Die skit he executive produced, posted screenshots of Queer Eye's mentions in the press release of nominees.
For culinary mastermind Antoni Porowski, a shoutout to Queer Eye's crew members, the original Queer Eye men, and his co-stars was the best way to commemorate the day.
While fashion guru Tan France has yet to tweet about the news, design expert Bobby Berk and culture aficionado Karamo Brown only emphasized the love that this group has for each other. Forget the actual show, because their sweet messages for each other is already enough to get me crying.
And what would Queer Eye be without the fans? Who else wouldn't be surprised if "YASSS" started trending on Twitter?
The viewers and the show's heroes who receive proper Queer Eye makeovers aren't the only ones greatly affected by the show's magic. All five of the main men have spoken about the importance of having each other to lean on throughout this process. They were reportedly friends from the start, and as Jonathan once said in a roundtable interview, "It's like a fraternity. I was always a GDI [a goddamn independent], and so I never would've fancied myself a fraternity person, but this is the cutest fraternity."
Sooo, is this fraternity rolling up to the Emmys in coordinating suits? We'll have to wait and see, but I vote that the Fab Five's preparation for the Emmys is filmed for an entire Season 3 episode. Sound good, Netflix?
The 70th Primetime Emmy Awards air on Monday, Sept. 17, at 8 p.m. ET. Season 2 of Queer Eye is streaming on Netflix.