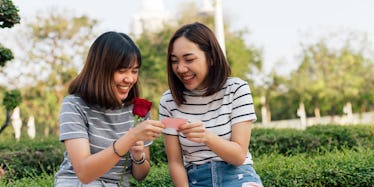 Your Zodiac Sign Reveals Which Love Language You're Most Likely To Prefer
Different people require different ways of receiving love in relationships. The understanding that each person has one of five "love languages" is now understood as a Thing, thanks to Gary Chapman's popular book The Five Love Languages. People commonly ask one another what their love language is as a way to understand their needs when in love. So of course, why not combine that with astrology and find out your love language based on your zodiac sign?
"I went through 12 years of notes that I had made when counseling couples and asked the question: When someone said, 'I feel like my spouse doesn't love me,' what did they want?" Chapman told Verily Mag. "What were they complaining about? Their answers fell into five categories. I later called them the five love languages."
The five love languages are: Words of Affirmation, Quality Time, Receiving Gifts, Acts of Service, and Physical Touch. From Chapman's years of counseling, he thinks all have something to gain when understanding another person's love language.
If you're dating someone or in a relationship, if you both understand how you like to receive love, it'll only make your partnership stronger.
I spoke to astrologer Kimberly Peta Dewhirst to find out which love language each sun sign in the zodiac corresponds to. Find below why each sign matches with certain love languages. If you have a SO, read theirs as well so you know how they'd want to receive love.