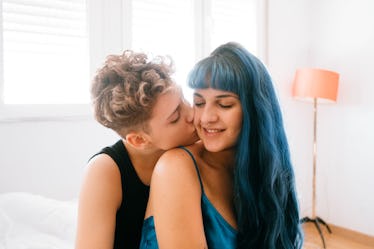 7 Lazy Sex Moves That Are Surprisingly Hot With Little Effort
Being tired and horny is a trying combination. Perhaps, it's the universe's greatest punishment. Maybe you do want to go to sleep or take a nap, but are too horny to actually fall asleep. And then too tired to get off. Or maybe you're in the mood for sex, but not necessarily up for headboard-banging, changing positions five times, and giving 110%. This is where the innovation and brilliance of "lazy" sex moves comes in.
With classic sex positions (think "the lotus position") as well as variations on the tried and true (like "collapsed doggy style"), you no longer have to suffer at the hands of fate. Gone are the days when long-*ss work weeks and horniness collide. Banished are the days where lust and laziness are at odds.
And you know what? As women and femmes, we already do so much labor — paid and unpaid. It's about time you get an orgasm and a break! And lazy sex moves are the perfect way to do that. It's 2019, sis. When it comes to sex, you can have your cake and eat it, too! Here are seven moves from 10 women that will let you do just that.