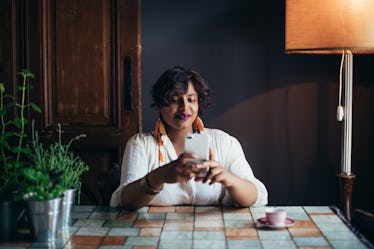 20 Sexts To Send Your FWB That Are So Steamy, Your Phone Screen Will Fog
I feel like there's a joke in here about having your phone on vibrate and using a vibrator, but it's not quite coming. However, after reading these 20 sexts to send your friend with benefits, you might be! If you have a FWB, having an inbox full of flirty and filthy messages can be another benefit of your hookup arrangement. Maybe you like to be playful or bossy while you sext. Perhaps you use your sexy texts as a preview for what's coming later on in the night. Whatever your vibe, sexting your hookup can be totally exciting.
Of course, like all types of sex, sexting requires some IRL conversations before doing the dirty. No one wants to be surprised by an unsolicited "I want to bone you right now" text when they're out getting a manicure with their nana. Consent is the name of the sexting game, and being clear about boundaries and intentions is imperative before hitting send on a sexy message. Additionally, it's important to remember that sexting isn't for everyone. If you're not into exchanging sexy messages, you never need to feel pressure to do so.
Still, if you and your FWB are on the same sexting page, here are 20 messages to send that are way more frisky than friendly.