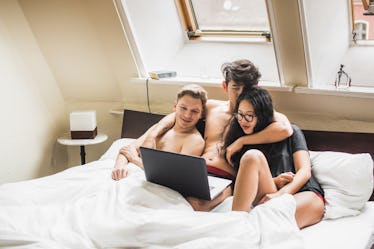 Here's How To Tell Your Partner You Want To Bring A Third Person Into The Bedroom
Sex is so, so personal, and there's no wrong way to enjoy sex, as long as it's consensual. But, if you're in a committed relationship and you want to mix things up, you might be curious about how to go about it all. For instance, if you've been craving a new experience, like bringing a third person into the bedroom, you're probably wondering how tell your partner you want a threesome. And honestly, it can get complicated, so don't worry if you're freaking out about it. That's totally understandable.
Obviously, having a threesome should be fun, but there are definitely things you need to consider first. According to Courtney Cleman, relationship and sex expert and founder of The V Club, you and your partner should have an honest conversation before diving right in. "Threesomes, or any form of an open relationship, require setting precise ground rules around what, when, where and how these sexual activities will take place," Cleman tells Elite Daily. "Avoid[ing] jealousy and other negative feelings that could arise after a threesome requires a higher degree of transparency and communication than a monogamous arrangement. Couples should consider doing soul-searching around if they are capable of complete openness before contemplating a threesome."
So, how do you have that conversation?