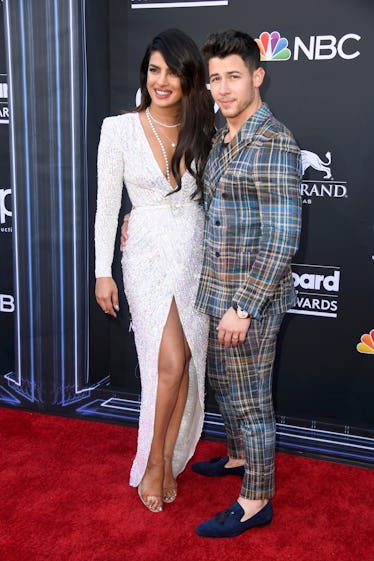 Nick Jonas & Priyanka Chopra's Body Language At The BBMAs Has Me Swooning So Hard
Frazer Harrison/Getty Images Entertainment/Getty Images
Nick Jonas and Priyanka Chopra have been a married couple since December 2018, and it's safe to say they get cuter and cuter by the day. From their adorable Instagram posts to their undeniable chemistry in the Jonas Brothers' "Sucker" music video, these two seem like a match made in heaven. Seeing them on the red carpet of the 2019 Billboard Music Awards was no different. In fact, Nick Jonas and Priyanka Chopra's body language at the 2019 BBMAs shows these lovebirds are thriving in their marriage, thank you very much.
But first, a quick backtrack. Jonas and Chopra made their first red-carpet debut together at the 2017 Met Gala, but only as friends. A year later, they sparked dating rumors when they were repeatedly spotted together in Los Angeles, Harper's Bazaar reports. In the months following, they flirted on Instagram, reportedly met each other's families, traveled together, and by August, Jonas and Chopra announced their engagement. They got married in December 2018, and since then, have done everything but hide their love for each other.
But sometimes, body language has the potential to reveal more about a couple than their words or actions could. I spoke with three behavior experts about what Jonas and Chopra's body language at the BBMAs red carpet on May 1 said about them as a couple, and I wasn't disappointed. "In addition to being remarkably good looking, they look like they are also deeply in love, have a robust and passionate sex life, and support each other's independence," Dr. Paul Hokemeyer, clinical psychotherapist and author of Fragile Power: Why Having Everything is Never Enough, tells Elite Daily. Here's everything else they spotted about Jonas and Chopra's body language on the red carpet.