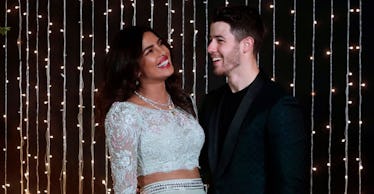 Nick Jonas & Priyanka Chopra's Newlywed Body Language Is Strange, & Now I'm Confused
It's been almost a month since Nick Jonas and Priyanka Chopra made their way down the aisle — twice. The first wedding was a Christian ceremony to honor Jonas' culture, while the second was a traditional Indian wedding with all the fanfare and celebration that goes along with it. Needless to say, it was an epic weekend in Jodhpur, India. Since then, the couple went on a quick honeymoon in Oman, but otherwise, the two have been living their best newlywed lives. In fact, Nick Jonas & Priyanka Chopra's newlywed body language has given me tons to obsess over on social media.
I mean, come one. Just because the the matrimonial fanfare is technically over doesn't mean I'm not still totally invested in this love story. So, I reached out to Traci Brown, body language expert and author of Persuasion Point: Body Language and Speech for Influence, to ask what she sees in Chopra and Jonas' newlywed pictures, and what that can tell us about their relationship dynamic and how things are going between them since walking down the aisle and saying "I do." Surely they must be oozing new relationship energy, right? Well, Brown took a look, and honestly, her answers surprised me. Here is what she sees in their newlywed body language.