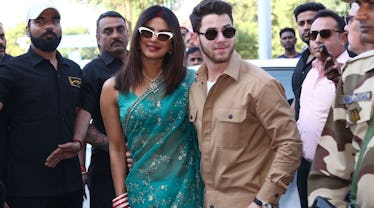 Nick Jonas & Priyanka Chopra's Body Language On The Cover Of 'Vogue' Is So Intimate
Well, the youngest Jonas brother is officially off the market! Over the weekend, Nick Jonas and Priyanka Chopra were married in not one, but two lavish ceremonies in Jodhpur, India, and from the looks of the photos released so far, they couldn't be happier. But now that they're Mr. and Mrs., looking closely at Nick Jonas and Priyanka Chopra's body language on the cover of Vogue magazine just goes to show that these two only have eyes for each other, and that their love is totally genuine and incredibly sweet.
Jonas and Chopra's wedding was reportedly a beautiful blend of their two cultures, and it certainly seems as though everyone involved had a great time. But in addition to their wedding and all that it entailed, Jonas and Chopra also graced the cover of Vogue's January 2019 issue (and the magazine's very first digital cover) as they shared more about their relationship and how they fell in love. In a telling interview, they revealed they'd had their eyes on each other for much longer than the public originally thought (they met at an Oscars' after party last year, per the magazine), and that their attraction to each other just felt right
Their love can totally be felt in the interview, and according to a body language expert, that's no accident. It's clear in their cover shoot and accompanying video interviews, too.