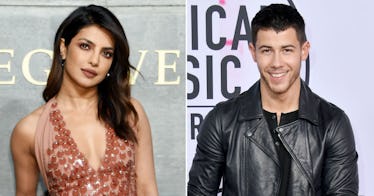 Nick Jonas & Priyanka Chopra Just Sent A Message To Their Haters With The Flirtiest Photo
Dimitrios Kambouris/Getty Images; Neilson Barnard/Getty Images
Not a fan of Nick Jonas' new relationship? Well, then, the singer has a very important message for you. The star took to his Instagram story on July 19 to share a pic — taken by his brother Joe Jonas — of his girlfriend with Game of Thrones star Sophie Turner, and you guys totally need to see it. Because as much as Nick Jonas and Priyanka Chopra's new photo will totally make you jealous, the caption the "Levels" singer added to the shot is amazingly on-point and will make you think twice about dissing their age difference (she's 36, he's 25).
OK, so, according to People, the Jo Bros hit up The Chiltern Firehouse in London with Chopra and Turner (who is Joe's fiancée) for a double date in honor of the "Quantico" star's 36th birthday. Now, I have no idea what went on inside that restaurant, but the pic taken on the way in is all kinds of epic, and, like, why couldn't I have been the fifth wheel?
First of all, the two gorgeous actresses are throwing TONS of attitude to the camera as they toss their heads back over their shoulders, while Nick walks ahead. Um, whatever happened to chivalry, Nick? I kind of forgive him for walking ahead of his girl, though.
I have a feeling Chopra knew the photo would end up in Nick's hands because that flirty pout she's sending to the camera lens is everything! The caption he later added to the resulting image is straight fire. Here's what he wrote:
Yes, Nick — tell 'em! I mean, just when I didn't think I could love him any more!
Jonas and Chopra were first linked to each other all the way back in May 2017, when they attended the Met Gala together, and they've been romantically linked since the end of May 2018, when sources confirmed their relationship to Us Weekly after the two were spotted attending the Beauty and the Beast Live concert at the Hollywood Bowl on May 25.
"They walked in together just before the performance was starting, they looked great together, but no hand-holding or obvious PDA," an eyewitness told the publication. "The two were seen heading to the concessions stand during intermission before returning to their seats to finish taking in the show. They snuck out right as the show was ending."
The next day, the couple reportedly attended a Los Angeles Dodgers game together, where a source told Us they were "talking really closely and were very smiley and very happy." And in June, the "Levels" singer took the actress to a family wedding in Atlantic City, New Jersey, which was kind of a big deal, you know? Like, if you're bringing your girl to meet the whole fam, things must be getting serious.
Anyway, since that time, the couple has been getting dragged because of their age gap. Really, guys? Who freaking cares? Age is just a freaking number. I mean, Ryan Reynolds is 11 years older than Blake Lively, and Jay-Z is 12 years older than Beyoncé and you don't see anyone making a federal case out of those relationships, do you? So let's just chill with the whole "she's old enough to be his mom" thing already, because these two are totally living their best lives together, I ship them HARD, and I am so here for Nick's Instagram-clapback game.
Gonna need to come up with something better to call them than #Prick, tho.