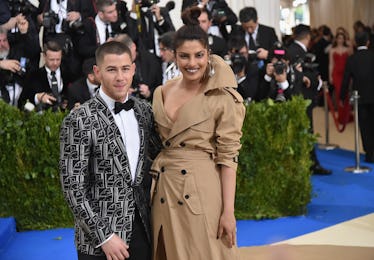 Nick Jonas Is Reportedly "Obsessed" With Priyanka Chopra, So Love Is Alive
Mike Coppola/Getty Images Entertainment/Getty Images
It's safe to say that Priyanka Chopra and Nick Jonas are the couple that no one saw coming, but can't help shipping anyway. In this bleak world of celebrity couple splits, their unexpected romance is proof that love is not dead, even when so many of our favorite Hollywood pairings are going their separate ways. Well, things are apparently heating up even more, because Nick Jonas is reportedly "obsessed" with Priyanka Chopra, per Us Weekly. Never mind the fact it's only been about a month since the pair has been linked, and most of us can't even get a text back. While I'm still waiting to hear back from Nick Jonas's team on the reported comment, I think we are all hoping that this couple has a long future together ahead of them.
According to Us Weekly, multiple sources claim that things are getting serious between the recently-linked lovebirds, and he has nothing but great things to say about the actress. In fact, the word "engagement" is reportedly being thrown around, so I'm already bracing myself for another Ariana Grande and Pete Davidson-esque whirlwind romantic timeline.
The publication reports via an insider, "Nick is super into Priyanka, but he isn't the type to rush into an engagement. It wouldn't be surprising if they eventually get engaged, but he's not the type to propose right away."
A second source agreed, telling the magazine that while the 25-year-old is not in any hurry to tie the knot at this point, he is "obsessed" with his girlfriend. That being said, apparently "No one would be surprised if Nick proposed to her in the next year." Um, what? Elite Daily reached out to Jonas' team for comment on being "obsessed" with his girlfriend and talk of engagement, but has not heard back by the time of publication.
Maybe there's some truth to the adage that when you know, you know. While the pair have only been linked together romantically since May, they memorably attended the Met Gala together last year. At the time, the 35-year-old Indian actress played coy and claimed that they were just friends during an interview on Jimmy Kimmel Live!, but in hindsight, it looks like she was laying down the foundations for a future romance with the youngest JoBro.
Unsurprisingly, the pair's antics seem to prove that they are very much into each other at the moment. On June 30, the Quantico star couldn't stop fangirling during one of her beau's shows. She took to her Instagram Story to share a video of her performance, which she simply captioned, "Him" with a heart emoji. It's enough to give even the most jaded romantic cynic all the feels.
They've also been meeting each other's families, which is when you know things are getting serious AF. On June 9, TMZ reported that Chopra was the "Jealous" crooner's plus-one at the Atlantic City wedding of his cousin, Rachel Tamburelli. At the time, an insider commented to People, "It's a huge deal that Nick brought Priyanka to his cousin's wedding. He's dated a lot over the last couple years but it's never been anything serious, so this is a big step."
Chopra later introduced her new flame to her mom Madhu in India. If that's not commitment, I don't know what is. The second insider echoed those sentiments in the new Us Weekly report, saying "They are obviously serious enough to the point that they are meeting each others families, which is clearly a huge deal."
Considering that Chopra's called Jonas "one of her favorite men," I think it's safe to say that they are very fond of each other, if not "obsessed." Could these lovebirds be pulling an Ariana and Pete next year? At this point, never say never.