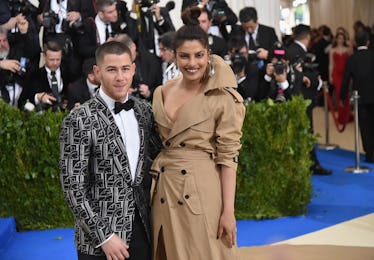 Priyanka Chopra Posted The Sweetest Tribute To Nick Jonas & It's #Goals
Mike Coppola/Getty Images Entertainment/Getty Images
If you had asked me in 2017 where Priyanka Chopra would be on a Saturday night, I probably wouldn't have guessed a Nick Jonas performance. The rumored couple are clearly very into each other at the moment, and Priyanka Chopra's Instagram of Nick Jonas is just further evidence of that. Can you say #couplegoals?
On June 30, Nick Jonas performed at a music festival in Brazil, and in attendance was his supposed better half Priyanka Chopra. To celebrate the singer-songwriter's set, Chopra took to Instagram to share a video of Jonas performing, along with a caption that says "him" along with the classic heart eyes emoji. Then, just to bless all of us on Instagram, Chopra zoomed in on Jonas' face displayed on a circular screen. Here I thought I was a huge Nick Jonas fan, but I have to say that Chopra might have one-upped me on with this post. That's fine, I'll step aside for now.
For those who saw Chopra's Instagram and thought, 'hm, that seems familiar,' it might be because on June 22, Nick Jonas posted a photo of Chopra smiling along with the caption "her" and yes, that heart eye emoji was included.
These two are seriously trying to kill me from their cuteness.
I don't think I'm the only one who never would have expected these two to link up, but months later I have to admit that I'm shipping them so hard. Rumors started flying in May that Chopra and Jonas were reportedly seeing each other, and honestly it feels just like yesterday that I was squealing about this news. Now look at these two.
This year might have been a black hole for celebrity romances, but it's so lovely to see that excludes Jonas and Chopra. On May 26, amid rumors about the couple blossoming romance, the two attended a Los Angeles Dodgers game together and a fellow attendee gave Us Weekly the inside skinny about all their body language.
The source said,
Priyanka and Nick were talking really closely and were very smiley and very happy. They weren't trying to be private as they were in a pretty public place, but they were talking to people around them, sitting closely and they both just seemed super happy.
Le swoon. Insert the heart eye emoji right here.
Although I live for every flirty comment on Instagram, the rumored couple doesn't only show their affection by gushing about each other on social media. In fact, the supposed couple are clearly taking their relationship up a notch. According to People, Jonas and Chopra traveled to India in June with the purpose of introducing Jonas to Chopra's mother, Madhu. Um, wow, that's serious. Priyanka Chopra might be living her life to the fullest right now, but the 35-year old has discussed her future plans, particularly that she would like to start a family "within 10 years." On June 21, Chopra spoke with People about how she definitely wants to have children. I must admit, she and Jonas would arguably make the best looking baby in history.
"I am a very live in the today, maximum live in the next two months kind of person," Chopra told People. "But in 10 years, I definitely want to have kids. That is, it's going to happen in the next 10 years. Well, hopefully earlier than that. I'm very fond of children and I want to be able to do that."
I personally can't wait to see where Chopra and Jonas' apparent relationship goes. One thing is for sure, we can expect plenty of heart eye emojis.