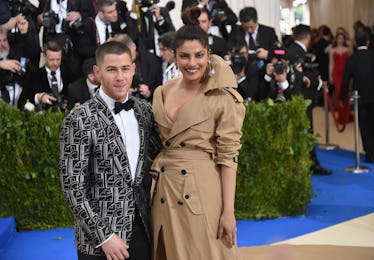 Nick Jonas & Priyanka Chopra Are Reportedly Taking This Huge Step In Their Relationship
Mike Coppola/Getty Images Entertainment/Getty Images
Nick Jonas and Priyanka Chopra are taking their relationship to Ariana Grande and Pete Davidson levels. Nick Jonas is meeting Priyanka Chopra's mom in India, according to a new report, which shows their rumored romance is getting serious AF. Although meeting your partner's parents for the first time can be an utterly stressful and nerve-wracking experience, the two are reportedly having a blast, and I could not be more excited for them.
Jonas and Chopra are relaxing in India so the singer can meet and get to know his girl's mother, Madhu, according to People. The outlet claims the trio even enjoyed dinner together on Friday, June 22. (Pics of Chopra and Jonas holding hands during the outing are over on the Deccan Chronicle, but try not to faint over how great they look together. I want you to finish my story.)
"They're very happy," a source close to the couple revealed, per People. "It's getting serious." Elite Daily reached out to both Jonas and Chopra's teams for comments on the report, but did not receive word back by the time of publication.
If true, it's not the first time the couple has signaled that things were heating up in their relationship. On June 9, Jonas took his maybe-lady to his cousin Rachel Tamburelli's wedding in New Jersey, and a source told People that it was a "huge deal" considering Jonas' dating history (or lack thereof).
"It's a huge deal that Nick brought Priyanka to his cousin's wedding," the insider explained to the outlet. "He's dated a lot over the last couple years but it's never been anything serious, so this is a big step."
The source added, "Nick and Priyanka really like each other, and his family enjoyed getting to know her as well. She fit right in!"
Although neither celebrity has publicly addressed the rumored relationship, several sources have maintained their romance is full-on official.
On May 26, Jonas and Chopra attended a Los Angeles Dodgers game together, and an eyewitness didn't hold back on any of the uber-cute details when speaking with Us Weekly. The source said,
Priyanka and Nick were talking really closely and were very smiley and very happy. They weren't trying to be private as they were in a pretty public place, but they were talking to people around them, sitting closely and they both just seemed super happy.
Another source also spilled the details of a date the rumored couple went on to see the Beauty and the Beast Live concert at the Hollywood Bowl on May 25. The source said,
They walked in together just before the performance was starting, they looked great together, but no hand-holding or obvious PDA. The two were seen heading to the concessions stand during intermission before returning to their seats to finish taking in the show. They snuck out right as the show was ending.
Before we know it, these two'll be sneaking off to get married. Mark. My. Words.
While it might seem like the two are only in the honeymoon stage of their relationship, when asked about her future in a recent interview with People, Chopra admitted that she hopes to have kids within the next 10 years — which, coupled with Jonas meeting her mother, led me to assume that this isn't any ol' casual fling.
"I am a very live in the today, maximum live in the next two months kind of person," Chopra explained to the magazine. "But [in] 10 years, I definitely want to have kids. That is, it's going to happen in the next 10 years. Well, hopefully earlier than that. I'm very fond of children and I want to be able to do that."
Given all these reports, it looks like Chopra and Jonas might be head-over-heels in love, and I'm so here for it.