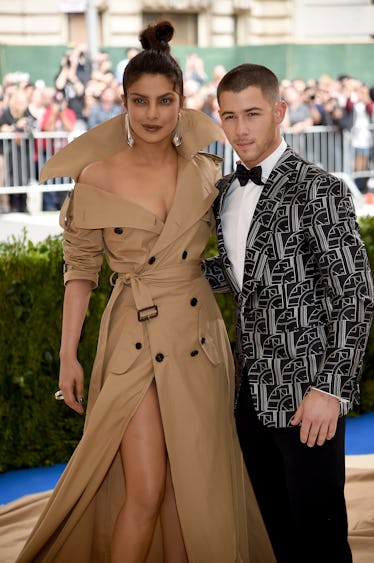 Nick Jonas & Priyanka Chopra Are Reportedly Dating & Honestly, I'm Shook AF
Dimitrios Kambouris/Getty Images Entertainment/Getty Images
There's a hot new couple in Hollywood, guys! And it might not be who you're expecting. According to Us Weekly, Nick Jonas and Priyanka Chopra are reportedly getting cozy with each other. Elite Daily reached out to Chopra and Jonas' teams for comment on this report. Chopra's reps declined to comment and Jonas' reps have not responded at the time of this publication. The two sparked romance rumors when they were spotted out and about just last week. But on Tuesday, May 29, Us Weekly seemingly confirmed those rumors. So, is it official now? Are Nick Jonas and Priyanka Chopra dating? Seems like it!
The confirmation comes via a source close to the couple. In Us Weekly's report, the source explained the relationship between Chopra and Jonas is still very new:
They are dating and it's brand new. It's a good match and they are both interested in each other.
In a separate report from People, another source gave some insight into this budding yet "casual" romance:
They're flirtatious and have been hanging out and text all the time.
This certainly isn't the first time the media has speculated about Jonas, 25, and Chopra, 35, being more than just friends. In fact, on Friday, May 25, the two stars attended the Beauty and the Beast Live concert at the Hollywood Bowl. An eyewitness told Us Weekly all about it:
They walked in together just before the performance was starting, they looked great together, but no hand-holding or obvious PDA … The two were seen heading to the concessions stand during intermission before returning to their seats to finish taking in the show. They snuck out right as the show was ending.
Then, on Saturday, May 26, they attended a Los Angeles Dodgers game together. Again, an eyewitness came forward to talk to Us Weekly about what they saw between the singer and the actress:
Priyanka and Nick were talking really closely and were very smiley and very happy. They weren't trying to be private as they were in a pretty public place, but they were talking to people around them, sitting closely and they both just seemed super happy.
Jonas and Chopra reportedly spent the rest of Memorial Day weekend relaxing with Jonas' friends.
Despite the sources that have confirmed they are dating, it seems like the relationship is still in its beginning stages. Maybe they're still feeling things out. Or, maybe they're working their way up to going public.
For now, the world will have to settle with speculation and insider information. That's more than enough to live on until we know the truth about these two!
Now, if you're like a lot of people, you might feel like Jonas and Chopra are the most random pairing ever. But they're actually not! Chopra and Jonas attended the Met Gala together way back in May 2017. A full year ago! So, this romance could have been in the works for a long while before any of the media got wind of it.
Actually, at the time, Chopra appeared on Jimmy Kimmel Live and was asked about her relationship with Jonas. Kimmel tried to pry information out of Chopra, but didn't get far. Here's what she had to say about it:
Yeah, we were at the same table. I mean, we know each other. So, he was like 'Hey, you wanna go together?' And I was like, 'Yeah, OK, let's go together.' So, it just ended up working out.
Here's Chopra on Jimmy Kimmel Live talking all about the 2017 Met Gala:
Whatever's going on between Chopra and Jonas, they sure do make a cute couple!