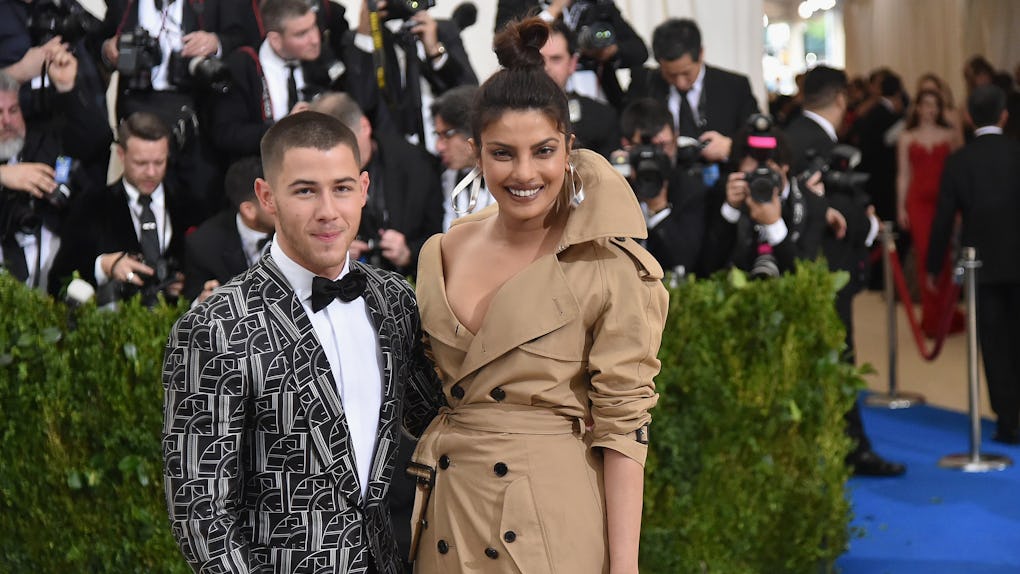 Mike Coppola/Getty Images Entertainment/Getty Images
Priyanka Chopra & Nick Jonas's Body Language At The Met Gala Revealed There Was Some Attraction
This morning I woke up and thought, hm, I'll open Twitter for a moment. (TBH, I do this most mornings.) I began scrolling my feed, and I noticed something that made me reconsider whether I was actually awake or not: Priyanka Chopra and Nick Jonas are reportedly dating. I quickly realized that the photos of the pair that were blasted all over Twitter are from the Met Gala. The 2017 Met Gala. Were they together then? Or crushing on each other? I wanted to find out what Priyanka Chopra and Nick Jonas's body language at the Met Gala said about their new love.
According to an Us Weekly source, Chopra and Jonas are dating, "and it's brand new. It's a good match and they are both interested in each other." Hubba, hubba. But also, how did this happen? The 35-year-old Quantico star and goddess Priyanka Chopra and the 25-year-old hunky singer Nick Jonas apparently spent some time together over Memorial Day weekend, and attended Beauty and the Beast Live at the Hollywood Bowl last Friday. They also showed up at a Dodgers game on Saturday.
Also, don't get me wrong, I love that Nick Jonas isn't afraid to date an older woman. This makes me think very highly of him. There's just something super random about this couple, because other than the Met Gala, where would the pair have crossed paths?
But it doesn't seem that the pair has been dating since last year's Met Gala. In a 2017 interview with Jimmy Kimmel, Chopra spoke about attending the party with Jonas, who Kimmel joked was "11." Chopra cheekily replied, "We were both wearing Ralph Lauren, and we decided to go together because it was fun…yeah, I didn't ask his age. Eleven?"
I buy into the conspiracy theory that the pair has been flirting since the Met Gala last year, but I have no actual intel to prove that. I decided to speak to body language expert Blanca Cobb to get her take on the photos of Chopra and Jonas from the 2017 event. Here's what she had to say about the new couple's unspoken communication.
Nick Is Definitely Protective Of Priyanka
This photo from 2017 shows a slightly miffed Jonas, but I've never been on a red carpet like this, and I imagine it's a lot to deal with. "With a serious look on his face, his arm outstretched in front of his body and his forward leaning posture, Nick's stance is silently saying 'back off,'" says Cobb. "Perhaps, a photog got a bit too close to the couple. Regardless of the reason, it's a good sign that Nick is a bit protective." If he's protective of her, he probably likes her, right?
There's Clearly Some Attraction On Nick's End
There was definitely potential for sparks back in 2017. "You definitely get the sense that Nick is attracted to Priyanka, look at his body," explains Cobb. "When you're attracted to someone, your body naturally gravitates towards them, as we see with Nick's torso and feet angling towards Priyanka." But, Priyanka is reciprocating less, according to Cobb. "Although, the sides of their bodies are touching as they pose for the photos, Priyanka angles her body towards the camera," she adds. Interesting...
Overall, The Pair Looks Super Relaxed Together
So were there sparks in 2017 between this duo or not? "If you look at their hands, you get the sense that they're quite comfortable," explains Cobb. "There isn't any noticeable tension in their fingers, you only see the natural curvature of their fingers." Maybe Priyanka was just waiting to find out how old Jonas really was?
Final verdict? "In these 2017 photos, Nick and Privanka's body language shows glimpses of attraction," confirms Cobb. Cheers to this random new couple!