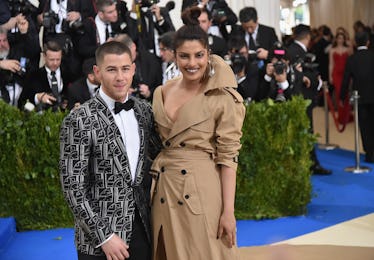 A Body Language Expert Spots Early Signs Priyanka Chopra & Nick Jonas Had Feelings
Mike Coppola/Getty Images Entertainment/Getty Images
This morning I woke up and thought, hm, I'll open Twitter for a moment. (TBH, I do this most mornings.) I began scrolling my feed, and I noticed something that made me reconsider whether I was actually awake or not: Priyanka Chopra and Nick Jonas are reportedly dating. I quickly realized that the photos of the pair that were blasted all over Twitter are from the Met Gala. The 2017 Met Gala. Were they together then? Or crushing on each other? I wanted to find out what Priyanka Chopra and Nick Jonas's body language at the Met Gala said about their new love.
According to an Us Weekly source, Chopra and Jonas are dating, "and it's brand new. It's a good match and they are both interested in each other." Hubba, hubba. But also, how did this happen? The 35-year-old Quantico star and goddess Priyanka Chopra and the 25-year-old hunky singer Nick Jonas apparently spent some time together over Memorial Day weekend, and attended Beauty and the Beast Live at the Hollywood Bowl last Friday. They also showed up at a Dodgers game on Saturday.
Also, don't get me wrong, I love that Nick Jonas isn't afraid to date an older woman. This makes me think very highly of him. There's just something super random about this couple, because other than the Met Gala, where would the pair have crossed paths?
But it doesn't seem that the pair has been dating since last year's Met Gala. In a 2017 interview with Jimmy Kimmel, Chopra spoke about attending the party with Jonas, who Kimmel joked was "11." Chopra cheekily replied, "We were both wearing Ralph Lauren, and we decided to go together because it was fun…yeah, I didn't ask his age. Eleven?"
I buy into the conspiracy theory that the pair has been flirting since the Met Gala last year, but I have no actual intel to prove that. I decided to speak to body language expert Blanca Cobb to get her take on the photos of Chopra and Jonas from the 2017 event. Here's what she had to say about the new couple's unspoken communication.